Carrier Maintains Perfect Score in Corporate Equality Index
Earns "Best Place to Work for LGBTQ+ Equality" designation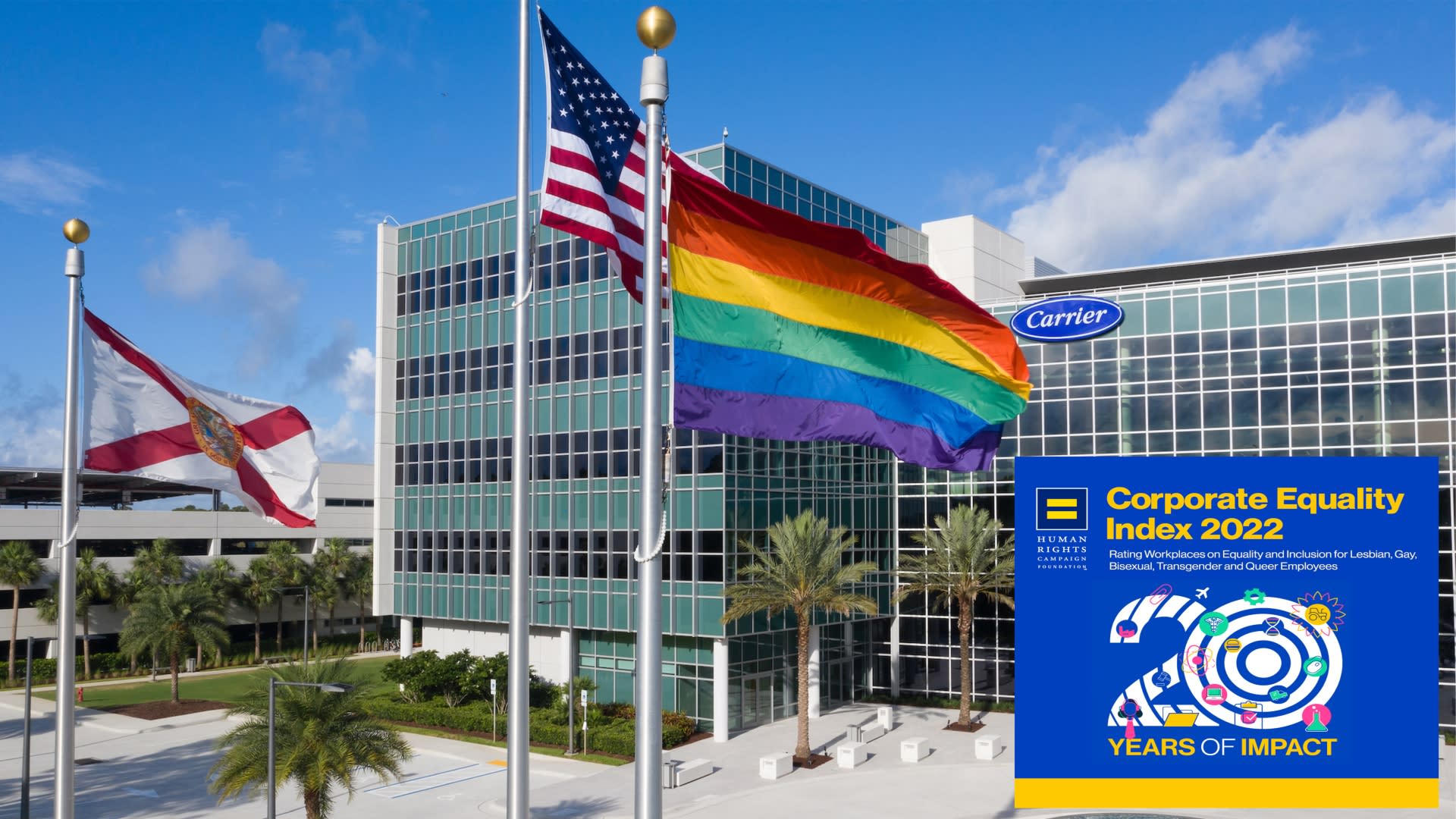 PALM BEACH GARDENS, Fla., Jan. 27, 2022 -- For the second year in a row, Carrier has achieved a perfect score of 100 points on the Human Rights Campaign Foundation's Corporate Equality Index (CEI), which measures corporate policies and practices related to LGBTQ+ workplace equality. The score also earns Carrier a "Best Place to Work for LGBTQ+ Equality" designation. Carrier Global Corporation (NYSE: CARR) is the leading global provider of innovative healthy, safe, sustainable and intelligent building and cold chain solutions.
Carrier attained another perfect score after demonstrating it has met a set of rigorous criteria that measures equality standards for LGBTQ+ employees. This includes workforce protections, inclusive benefits and supporting an inclusive culture, as well as corporate social responsibility. Last year Carrier introduced a voluntary "self-identification" option to U.S. employees in its human resource management software, allowing employees further opportunities for gender expression and identity; and to build a roadmap to improve engagement and progress towards inclusion. In addition, the company extended leave policies to domestic partners, provides equal health coverage for transgender individuals, all part of Carrier's efforts to attract, engage and develop LGBTQ+ employees. A perfect score on the CEI showcases Carrier's continued commitment to inclusion, a key tenet of Carrier's core values.
"At Carrier, inclusion is being a part of something bigger than ourselves. It means ensuring employees are empowered and valued for varied perspectives, talents, beliefs and backgrounds," said Shondi Muir, Director, Inclusion & Diversity, Carrier. "We're proud of our perfect CEI score that demonstrates our commitment to an inclusive environment where LGBTQ+ employees _belong.
Carrier continues to accelerate momentum globally to achieve its vision for inclusion and diversity. Equidad Mexico, a Human Rights Campaign Foundation initiative that evaluates LGBTQ+ workplace inclusion among major Mexican businesses and corporations, named Carrier Mexico one of the Best Places to Work for LGBTQ+ Equality in 2022.
"When the Human Rights Campaign Foundation created the CEI 20 years ago, we dreamed that LGBTQ+ workers—from the factory floor to corporate headquarters, in big cities and small towns—could have access to the policies and benefits needed to thrive and live life authentically," said Jay Brown, Senior Vice President of Programs, Research and Training, Human Rights Campaign. "Congratulations to Carrier for achieving the title of 'best places to work for LGBTQ+ equality' and working to advance inclusion in the workplace."
To learn more about Carrier's vision and values, visit https://www.corporate.carrier.com/our-company/values/ and to read the full CEI report, visit www.hrc.org/cei.
About Carrier
As the leading global provider of healthy, safe, sustainable and intelligent building and cold chain solutions, Carrier Global Corporation is committed to making the world safer, sustainable and more comfortable for generations to come. From the beginning, we've led in inventing new technologies and entirely new industries. Today, we continue to lead because we have a world-class, diverse workforce that puts the customer at the center of everything we do. For more information, visit www.Corporate.Carrier.com or follow us on social media at @Carrier.
| | |
| --- | --- |
| Contact:      | Danielle Canzanella |
| | 860-221-8457 |
| | |
SOURCE Carrier Global Corporation