Carrier Joins the International Society of Automation Security Compliance Institute as Strategic Voting Member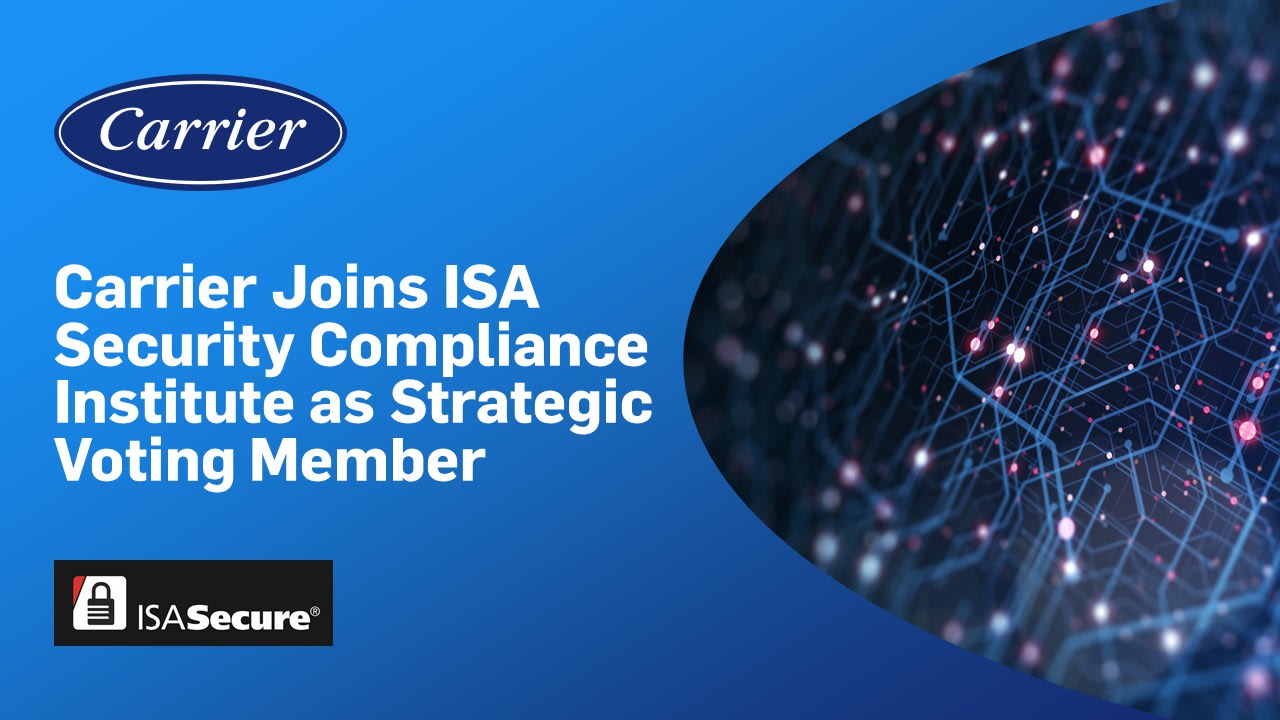 PALM BEACH GARDENS, Fla., July 19, 2022 -- Carrier Global Corporation (NYSE:CARR), the leading global provider of healthy, safe, sustainable and intelligent building and cold chain solutions, is pleased to announce its participation in the ISASecure® Program as a strategic voting member. Carrier's leadership position demonstrates its unwavering commitment to proactively securing its offerings and supporting customers. As a strategic member, Carrier will help establish the strategy and direction of the ISASecure certification program, the global industry initiative to secure control systems. 
"Carrier's commitment to securing its products is demonstrated by their support for the ISA/IEC 62443 standards," said Andre Ristaino, ISA Managing Director of Consortiums and Conformance Programs, International Society of Automation. "Joining the ISASecure Program shows further commitment via participation in developing and promoting the ISASecure certification offerings." 
The ISASecure Program's mission is to provide the highest level of assurance possible for the cybersecurity of automation and control systems. It was established by thought leaders from major organizations in the automation and controls community seeking to improve the cybersecurity posture of critical infrastructure for generations to come. The ISASecure program currently offers cybersecurity certifications for OT components, systems, and product lifecycles. The certification roadmap includes ISA/IEC 62443 based IIOT device/gateway certification, IIOT system certification (includes cloud provider), and owner/operator site assessments. 
"Embracing robust cybersecurity standards is a key enabler for best outcomes, regardless of industry, and we're pleased to take a leadership position in the domain of product and system cybersecurity," said John Deskurakis, Chief Product Security Officer, Carrier. "At Carrier, we are committed to the highest cybersecurity standards and helping ensure customer success. We are very proud to serve in a prominent role with ISCI." 
Carrier's new role with the ISASecure Program enhances and extends its pledge to building secure products. By better ensuring automation and control system products conform to industry consensus cybersecurity standards such as ISA/IEC 62443, Carrier can provide higher levels of confidence to users of its products and systems. 
Carrier is also a founding member of the ISA Global Cybersecurity Alliance helping establish priorities, develop industry standards and advocate for increased cybersecurity awareness. 
To learn more about Carrier's commitment to product cybersecurity, visit https://www.corporate.carrier.com/product-security.
About Carrier
As the leading global provider of healthy, safe, sustainable and intelligent building and cold chain solutions, Carrier Global Corporation is committed to making the world safer, sustainable and more comfortable for generations to come. From the beginning, we've led in inventing new technologies and entirely new industries. Today, we continue to lead because we have a world-class, diverse workforce that puts the customer at the center of everything we do. For more information, visit www.Corporate.Carrier.com or follow us on social media at @Carrier.
Contact:   
Kat Lebo
860-471-5316