Carrier Achieves Perfect Score in Corporate Equality Index
Earns "Best Place to Work for LGBTQ Equality" designation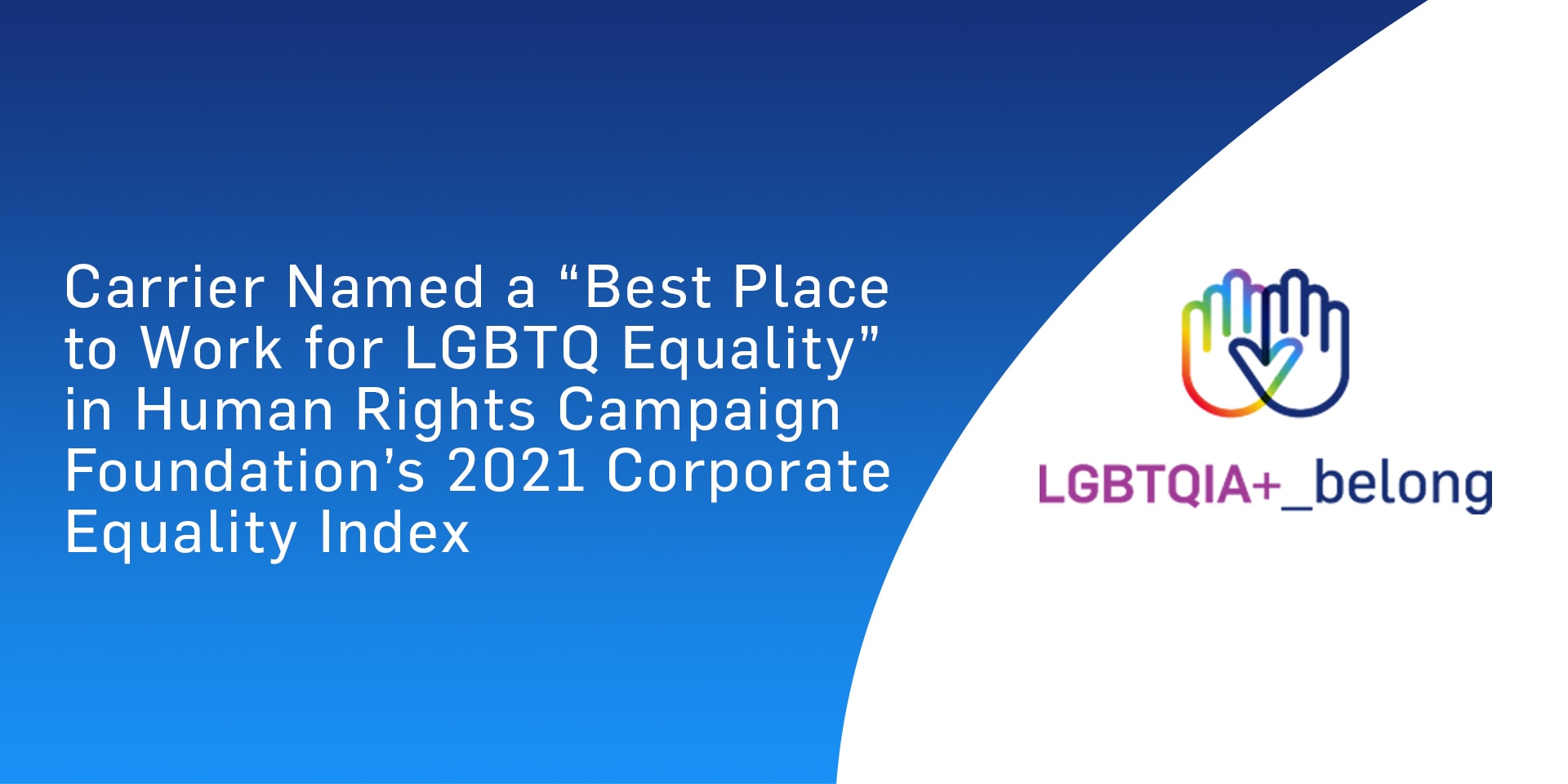 PALM BEACH GARDENS, Fla., Jan. 29, 2021 — In its first year as a fully independent, publicly traded company, Carrier has achieved a perfect score of 100 points on the
Human Rights Campaign Foundation's 2021 Corporate Equality Index
, which measures corporate policies and practices related to LGBTQ workplace equality. The score also earns Carrier a "Best Place to Work for LGBTQ Equality" designation.
Carrier Global Corporation
(NYSE: CARR) is a leading global provider of healthy, safe and sustainable building and cold chain solutions.
Carrier attained the top score after demonstrating it has met a set of rigorous criteria that measures equality standards for LGBTQ employees. This includes workforce protections, inclusive benefits and supporting an inclusive culture, as well as corporate social responsibility. A perfect score on the CEI demonstrates Carrier's commitment to inclusion, a key tenet of Carrier's core values. 
"This achievement demonstrates our continued commitment to upholding the Carrier values of respect, integrity and inclusion," said Nadia Villeneuve, Senior Vice President & Chief Human Resources Officer. "At Carrier, we aspire to create a workplace that is truly inclusive and encourages everyone to bring their authentic selves to work each day – a workplace where we all
_belong
."
Specific business practice enhancements implemented at Carrier in 2020
include: 
Workforce protection: Ensured critical policies include gender-neutral language as part of Carrier's non-discrimination practices. 
Inclusive benefits: Simplified requirements for registration of domestic partners and extended leave policies to domestic partners; equal health coverage for transgender individuals.
Supporting an inclusive culture: Includes company-wide recognition and celebration of Pride Month; increased efforts to attract, engage and develop LGBTQ employees, publishing gender transition guidelines to help foster dialogue and understanding of transgender in the workplace.
"In 2020, Carrier leaned forward in meaningful ways to align with our Diversity & Inclusion strategy," said Eva Azoulay, Senior Vice President, Global Business Services & Transformation and executive champion of Carrier's PRIDE employee resource group. "I'm proud of Carrier's perfect CEI score, but we understand there is still work that must continue to ensure we remain a best place to work for LGBTQ employees." 
As a global company with over 55,000 employees, Carrier is committed to ensuring its business practices promote inclusion and diversity in the workforce. This truly is The Carrier Way. To learn more about Carrier's vision and values, visit 
https://www.corporate.carrier.com/our-company/values/
and to read the full report, visit
www.hrc.org/cei
.
About Carrier
As the leading global provider of healthy, safe and sustainable building and cold chain solutions, Carrier Global Corporation is committed to making the world safer, sustainable and more comfortable for generations to come. From the beginning, we've led in inventing new technologies and entirely new industries. Today, we continue to lead because we have a world-class, diverse workforce that puts the customer at the center of everything we do. For more information, visit
www.Corporate.Carrier.com
or follow us on social media at @Carrier.