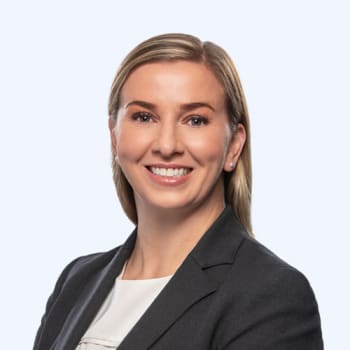 Jennifer Anderson
Senior Vice President, Strategy, Business Development & Chief Sustainability Officer
Jennifer Anderson is the Senior Vice President, Strategy, Business Development & Chief Sustainability Officer, for Carrier. In this role, Jennifer is responsible for leading Carrier's strategic efforts to define and frame long-term growth around mergers, acquisitions, divestitures and other business development activities, playing a critical role in enhancing the company's overall strategic focus to deliver significant value for Carrier's shareowners.
As Chief Sustainability Officer, Jennifer is focused on environmental, social and governance priorities and developing the company's associated strategic roadmap aligned with Carrier's vision to create solutions that matter for people and our planet.
Jennifer joined Carrier from Tyson Foods, where she most recently served as Senior Vice President, Corporate Development, responsible for enterprise strategy, global mergers and acquisition execution, integration management and macro-economics.
Prior to Tyson, she held a variety of leadership roles, including Vice President of Corporate Development at Johnson Controls, and Vice President of Business Development, Strategy and Planning for Eaton Corporation. She also worked in investment banking at J.P. Morgan, spending a number of years in its Hong Kong and Chicago offices.
Jennifer attended The Ohio State University and also holds a bachelor's degree in economics from Georgetown University and an MBA from the University of Chicago Booth School of Business.
Connect with Jennifer on LinkedIn
file_downloadJennifer Anderson Bio