Statement Regarding Kidde-Fenwal, Inc. Chapter 11 Sale Process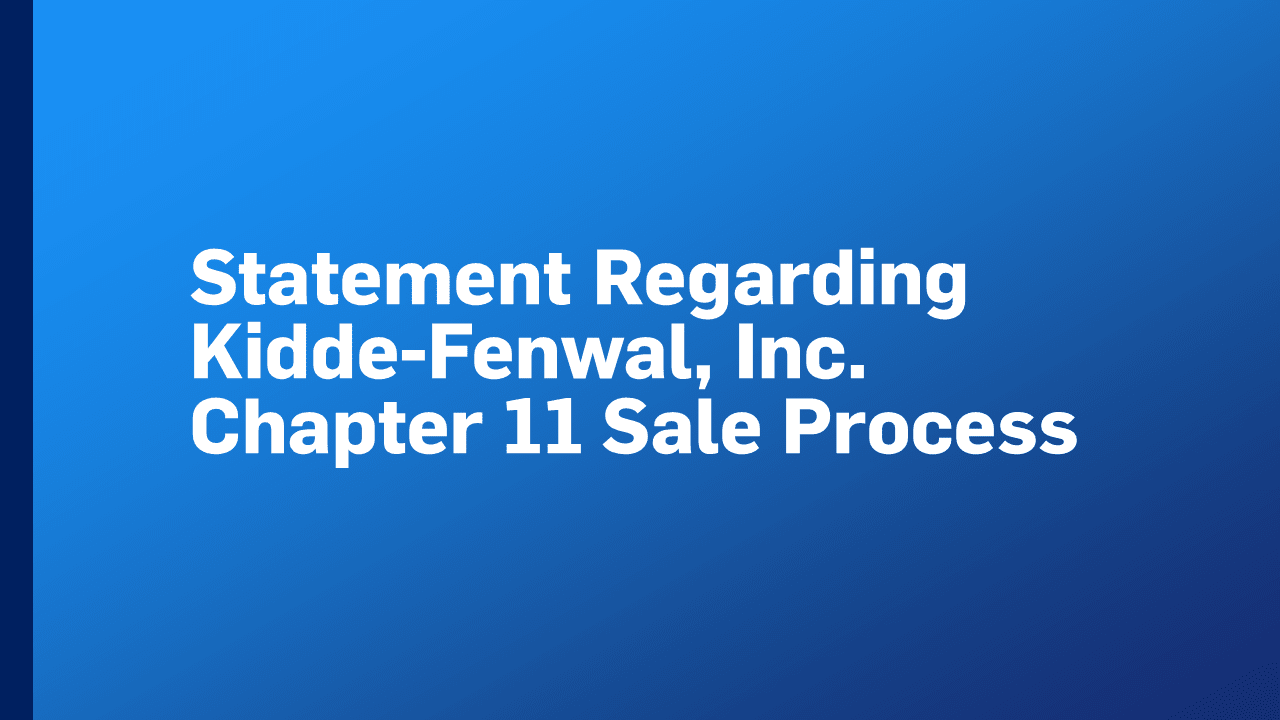 Kidde-Fenwal, Inc. ("KFI") is a separate Delaware corporation with a 35-year history as an independent company. Carrier Global Corporation (the "Company") inherited the stock of KFI in the Company's 2020 spin-off from Raytheon Technologies (formerly known as United Technologies Corporation). KFI operates a range of industrial fire suppression and detection businesses with annual sales of more than $200 million in 2022. 
As previously disclosed, KFI also owned and operated the National Foam business line from 2007 to 2013. KFI may have contingent liabilities relating to the manufacture and sale by National Foam of Aqueous Film-Forming Foam ("AFFF"). KFI disputes these liabilities. KFI also has asserted related claims against third parties, including insurers and the current owners of the National Foam business, who purchased it from KFI in 2013 and granted indemnification rights to KFI. 
In March 2023, Carrier communicated to KFI that it would not support KFI financially in the face of KFI's potential AFFF liabilities. Carrier's decision was driven by the following considerations: 
KFI is not a strategic fit for Carrier. 
KFI is a separate corporation and an independent company. Carrier is not liable for KFI's debts under law. 
KFI has a valuable operating business and currently has a strong cash position. 
The significant uncertainty of potential AFFF liabilities, which may exhaust KFI's ability to pay, renders any new investment by Carrier worthless. 
KFI has retained its earnings and never paid a dividend or made a capital distribution to Carrier. 
Carrier was not involved in and is not responsible for the AFFF activities of KFI, which sold the National Foam business in 2013, four years before the first AFFF cases surfaced. 
In March 2023, Carrier also appointed two independent members of the Board of Directors of KFI (the "KFI Board"). These directors are unaffiliated with Carrier and constitute a majority of the KFI Board. The KFI Board then commenced a strategic review process with restructuring advisors. 
Yesterday, the KFI Board informed Carrier that it has decided to commence a process to sell KFI as a going concern to a new owner and to implement that sale in Chapter 11 proceedings in the United States Bankruptcy Court for the District of Delaware. Although Carrier did not make this decision, Carrier has informed the KFI Board that Carrier has no objection as stockholder and understands the basis for the conclusion by the KFI Board that a Chapter 11 filing is in the best interests of KFI's creditors, employees and stakeholders. Carrier intends to cooperate by continuing to provide certain services on arm's-length terms to facilitate a successful sale and Chapter 11 case. 
All of the net proceeds from the sale of KFI will be available to pay AFFF liabilities and other claims as judicially determined during the Chapter 11 case. Given the uncertainty of AFFF liabilities asserted against KFI, there can be no assurances that Carrier as stockholder will receive any recovery.