Advanced IoT Solutions Expected to Serve Up Millions in Energy Savings for Pizza Hut Franchisee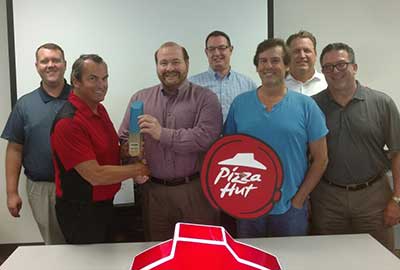 Back Row, L-R: Josh Bequette, I&C manager, EcoEnergy Insights; Tim Stockton, Sr., director, Development & Real-Estate, AWRG; Jamie Nelson, COO, AWRG; Front Row, L-R: Jerry Ardizzone, CEO, AWRG; Michael Gainsley, Business Development & National Accounts, EcoEnergy Insights; Garry Ardizzone, technical project consultant, AWRG; Ray Catania, facilities maintenance coach, AWRG
Up to 18% reduction in average monthly energy usage; $2 million in savings expected over the next 5 years
The third largest Pizza Hut franchisee in the country, the American West Restaurant Group (AWRG), is on track to achieve a significant slice of energy savings thanks to an innovative IoT approach to energy management. EcoEnergy Insights developed a customized program for hundreds of AWRG's restaurants in California and Utah that integrates buildings across borders, exceeding expectations and allowing AWRG to save money and help the environment. This achievement comes as AWRG marks a major milestone – their 10th anniversary of operations. EcoEnergy Insights, a leading provider of Internet of Things (IoT) and analytics-driven business outcome services, is a part of UTC Climate, Controls & Security, a unit of United Technologies Corp. (NYSE : UTX ).
"We congratulate the AWRG team on their 10th anniversary and are elated to be a part of their story," said Mansoor Ahmad, managing director, EcoEnergy Insights. "We commend AWRG's steadfast commitment and focus to drive efficiencies, and we are happy and proud to be there to help them achieve their goals."
In 2015, AWRG set a goal to reduce average monthly energy usage by 15%. EcoEnergy Insights helped to meet that in the first year and a half across the initial 8 restaurants. In fact, they achieved an average reduction as high as 18% in some months, which prompted AWRG to add hundreds more Pizza Hut restaurants. The strong results caught the attention of the judges at the 2018 Environmental Leader & Energy Manager Conference (ELEMCON) who chose EcoEnergy Insights for the 2018 Environmental Leader Top Project of the Year Award.
"We were convinced that the answer was in advanced analytics, not in retrofitting, as in, modifications to existing restaurants that may improve energy efficiency or decrease energy demand," said Jerry Ardizzone, president, AWRG. "Our search for a technologically sound solution that would provide full restaurant visibility and take into account the dynamics of our operations led us to EcoEnergy Insights. I'm pleased we're working with EcoEnergy Insights – and that this engagement has been a recipient of the Environmental Leader award. EcoEnergy Insight's advanced analytics are reducing our carbon footprint and elevating AWRG's sustainable practices and social responsibility. We look forward to positive results through their platform and our synergies for years to come."
Using the intelligent CORTIX™ AI and IoT platform, EcoEnergy Insights was able to deploy a three-pronged energy site control strategy at each restaurant. This provided immediate results while laying a foundation for year-on-year savings as well as enabling data-driven decision-making. The restaurants were also connected to EcoEnergy Insights' Command Center, which allowed continuous benchmarking and raised the network-wide efficiency bar.
AWRG is now on track to save an estimated $2 million over the next five years for 250 Pizza Hut restaurants – which amounts to about 15,000 metric tons of CO2 saved in the process. For AWRG, pizza tastes best when served with energy efficient, environmentally sustainable IoT solutions.
About EcoEnergy Insights
EcoEnergy Insights is a leading provider of outcome-based services to some of the world's largest enterprises in industries such as restaurants, retail, hospitality, banking and water utilities. Its CORTIX™ technology platform leverages a combination of advanced software and expert human analytics to uncover insights and use them to achieve results across sites, multiple industries and a range of geographies. EcoEnergy Insights is a part of UTC Climate, Controls & Security, a unit of United Technologies Corp., a leading provider to the aerospace and building systems industries worldwide. For more information about EcoEnergy Insights and the CORTIX™ platform, visit the www.ecoenergyinsights.com and www.cortix.ai websites.