Carrier Named to Forbes' World's Best Employers 2023 List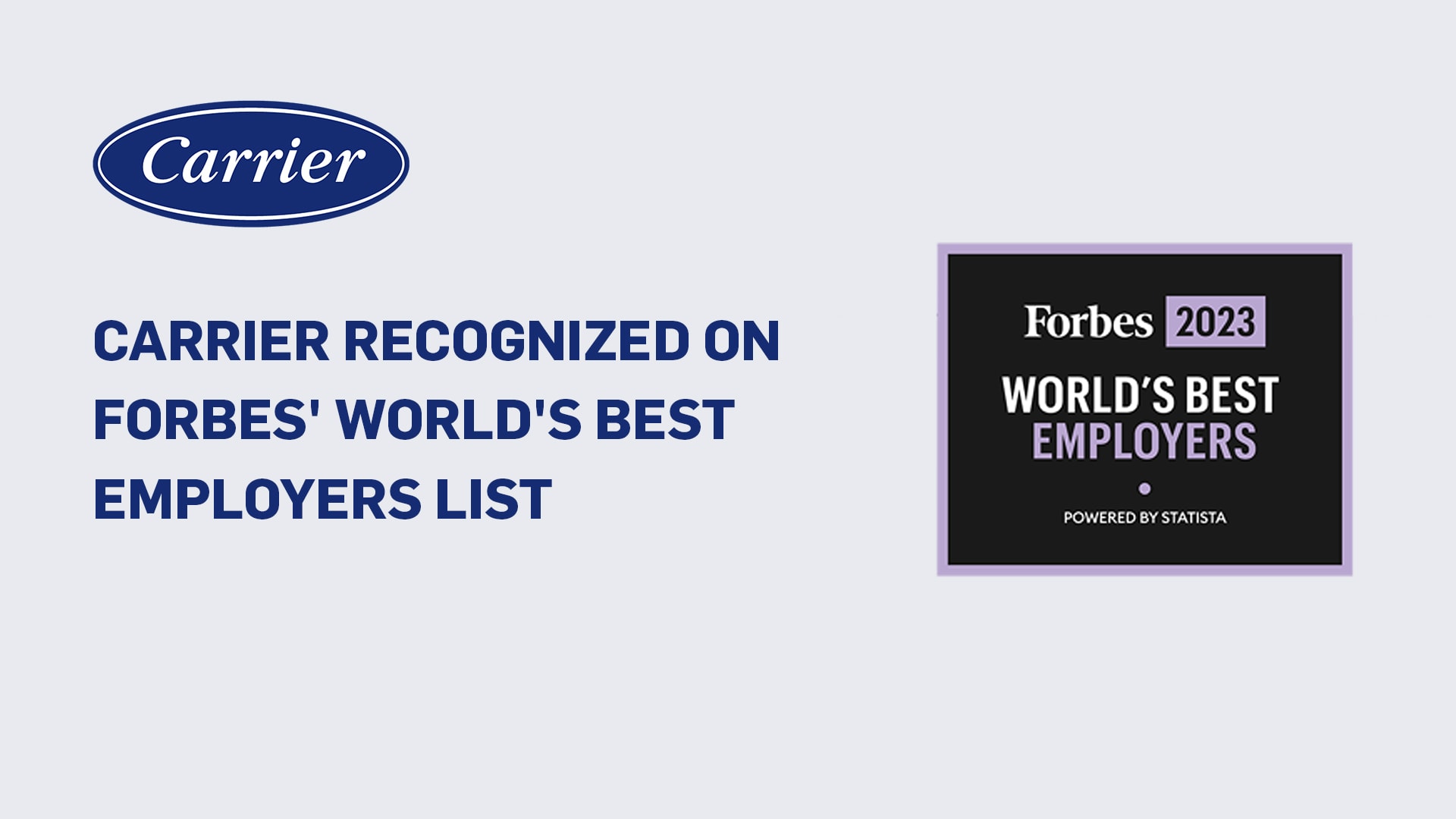 PALM BEACH GARDENS, Fla., Oct. 10, 2023 —
Carrier Global Corporation
(NYSE: CARR), global leader in intelligent climate and energy solutions, has been included among 700 companies on
Forbes World's Best Employers 2023 list
. Conducted in partnership with independent market research firm Statista, Forbes' ranking recognizes the top-performing companies globally based on corporate impact and image, talent development, gender equality and social responsibility.
"Being named to Forbes World's Best Employers 2023 list further reinforces our commitment to creating an inclusive and diverse team that works to make a positive difference for people and the planet," said Nadia Villeneuve, Senior Vice President & Chief Human Resources Officer, Carrier. "Guided by The Carrier Way, which defines our vision and reaffirms our values, we're proud of the progress we've made in creating a culture where we work and win together."
As an employer of choice, Carrier attracts, develops and retains world-class talent, and fosters an inclusive and diverse culture that promotes teamwork and employee well-being and accelerates innovation for our customers. To empower our employees, Carrier has invested in global people programs focused on culture, engagement, inclusion, flexible work, well-being, and development and career growth.
This marks Carrier's second employee engagement-related recognition in the last month. In September, TIME named Carrier to its inaugural
World's Best Companies list
, which recognizes the top performing companies globally based on employee satisfaction, revenue growth and sustainability.
Forbes surveyed 170,000 workers from over 50 countries regarding their willingness to recommend their employers to friends and family and evaluate other employers in their respective industries that stood out either positively or negatively.
To learn more about how Carrier is fostering an inclusive and diverse team, visit
www.corporate.carrier.com
or read more in its
2023 ESG Report
.
About Carrier
Carrier Global Corporation, global leader in intelligent climate and energy solutions, is committed to creating solutions that matter for people and our planet for generations to come. From the beginning, we've led in inventing new technologies and entirely new industries. Today, we continue to lead because we have a world-class, diverse workforce that puts the customer at the center of everything we do. For more information, visit corporate.carrier.com or follow Carrier on social media at @Carrier.
Contact:    Jason Shockley
                  561-365-2340
                  [email protected]