Carrier Strongly Supports U.S. Governors' Heat Pump Initiative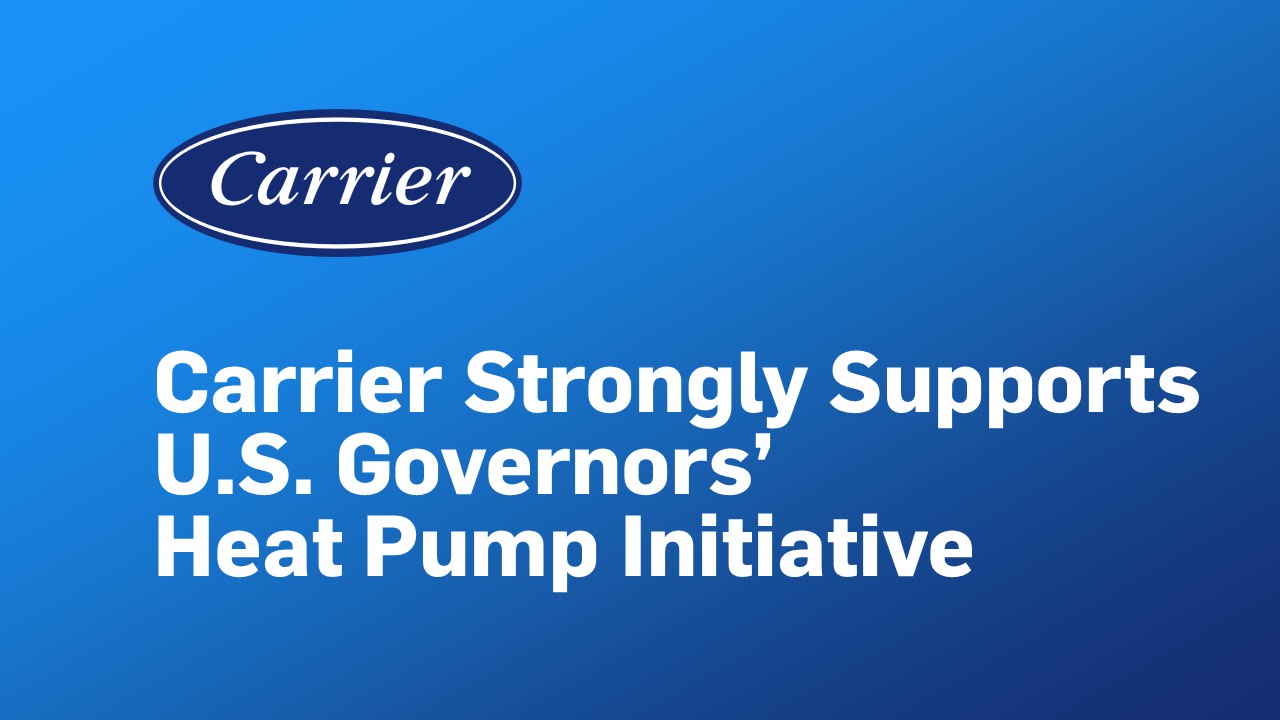 PALM BEACH GARDENS, Florida, Sept. 22, 2023 - As a global leader in intelligent climate and energy solutions,
Carrier Global Corporation
(NYSE: CARR) strongly supports the U.S. Climate Alliance's commitment to helping decarbonize U.S. buildings through the use of heat pumps.
The Climate Alliance, a bipartisan coalition of 25 governors across the U.S., has announced a collective target to drive a
four-time increase in heat pump installations
by 2030 across their states. This initiative will advance the governors' goal of planning for a transition to a zero-emissions building future as soon as practicable.
Globally, heat pumps are recognized as a key solution in the fight against climate change. RePowerEU, a European Commission proposal to end reliance on fossil fuels before 2030, is aiming to add 10 million additional heat pumps over the next five years. Seventeen European countries have announced or implemented bans on fossil fuels; 19 countries have implemented incentives supporting heat pump adoption and 12 have banned fossil fuel boilers in new buildsi.
Heat pumps are typically powered by electricity and are more energy-efficient than standard furnaces or boilers. According to Rewiring America
ii
, if all single-family homes in the U.S. adopted heat pumps, the total annual emissions reduction would be at least 160 million metric tons – the equivalent of taking 32 million cars off the road. In addition, despite the name, many heat pumps can not only heat homes but are also capable of providing cool air like an air conditioner. Heat pumps typically operate longer at steadier and lower capacity, which also makes them quieter and better able to control temperature than standard systems.
"At Carrier, we are focused on developing industry-leading heat-pump technology that can reduce greenhouse gas emissions, while saving on fuel costs for home and business owners," said Justin Keppy, President of North American Residential and Light Commercial HVAC at Carrier. "I applaud the U.S. Climate Alliance for taking a bold stand that will advance the energy transition, create jobs, and result in healthier more affordable heating and cooling solutions for the residents of their states. It's a move that is good for people and the planet."
Carrier's commitment to global heat pump innovation and access includes its prior commitment to investing $2 billion by the end of 2030 on sustainable solution innovation, with a focus on electric heat pumps, among other solutions; field testing of prototype cold climate heat pumps in harsh climates as part of the Department of Energy's Cold Climate Heat Pump Challenge; and the recent designation of its Collierville, Tennessee facility as its Center of Excellence for high-efficiency heat pump production.