Riello Introduces Condexa Pro
High power wall-hung condensing boiler
Riello introduces Condexa Pro, a new addition to its high power condensing wall-hung boiler range, designed to allow installation flexibility with compact dimensions - ideal for a variety of applications including residential buildings, hospitals, data centres, schools or manufacturing facilities. Riello is a brand of Riello Group, a leader in products and services for heating, air conditioning and energy efficiency, is a part of UTC Climate, Controls & Security, a unit of United Technologies Corp. (NYSE: UTX).
"Space-saving design, flexibility and efficient electronic management distinguish Condexa Pro," said Luca Pesenti, product manager, Riello Group. "All those features allow specifiers and installers to adapt to the various needs of different system requirements. Condexa Pro is the ideal choice for new plants, replacements or renovations of old heating systems, and is suitable for the most varied plant requirements, thanks to the wide range of optional accessories enabling multiple configurations of the product. Riello provides the specifiers with the new product configurator software, enabling them to personalize the product configuration, choosing the accessories and achieving different requirements through software available on Riello's website."
Riello's new Condexa Pro is compact yet powerful, perfect for small spaces, while complying with technical and regulatory evolutions related to the heating industry.
The range extends from 35 up to 131 kilowatts (kW), in different configurations. The circulator is on board for models up to 70 kW, while the higher power models can be equipped with a circulator or – in case of multiple cascades - a two-way cut-off valve.
Thanks to the calculation speed and advanced management algorithms, the electronic control system allows regulated ambient temperatures and the best possible operation performance both for stand-alone boilers and multiple cascades up to 10 units. For the installation of multiple cascades, the primary-secondary logic integrated in the electronic control permits the interchangeability of the boilers in the cascade, ensuring constant operations, even during service operations.
Among the most innovative components of Condexa Pro: an optimized stainless steel heat exchanger designed and manufactured by Riello with single or double coil patented sections and the premix burners for high turndown ratio and low emissions.
A wide range of optional accessories completes the offer and enables multiple configurations of the product: the interface between the primary circuit and secondary circuit can be made either with a hydraulic separator or plate exchanger; the electronic remote control modules and additional heating zones; the outdoor installation kits; the set of flue gas exhaust systems, for both open chamber and room sealed combustion.
For more information on Condexa Pro, please visit www.riello.it.
About Riello Group
Founded in 1922, Riello Group is a leader in products and services for heating, air-conditioning and energy efficiency. Headquartered in Legnago (Verona), Italy, Riello operates in over 120 countries. Riello is a part of UTC Climate, Controls & Security, a unit of United Technologies Corp., a leading provider to the aerospace and building systems industries worldwide. For more information, visit www.riello.com.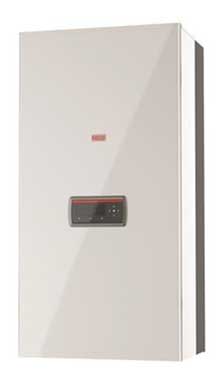 Riello's new Condexa Pro: a high power wall-hung condensing boiler