Riello Now Certified as Energy Services Company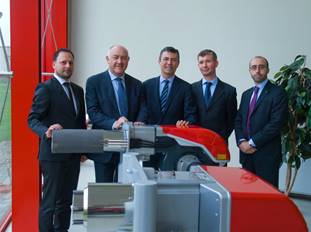 From left to right:Maurizio Giordano – National Key Account, TȔV Rheinland Italy Umberto Ferretti – CEO, Riello Paolo Caglio – CEO, TȔV Rheinland Italy Alessandro Fatini - EH&S and Energy Manager, Riello Danilo Marzo – Strategic Marketing Manager, TȔV Rheinland Italy
Riello Group SPA announced today it has been certified by TÜV Rheinland Italy, allowing it to be officially designated as an Energy Service Company (ESCo). Riello Group, a leader in products and services for heating, air-conditioning and energy efficiency, is part of UTC Climate, Controls & Security, a unit of United Technologies Corp. (NYSE:UTX).
The UNI CEI 11352: 2014 certification enables Riello to provide specialised services to increase the energy efficiency of a client's buildings in areas such as heating, cooling and hot water production. This new certification meets the Decreto Legislativo102/2014 regulation, which defines the minimum requirements and capabilities an ESCo must meet for its internal organization, diagnostics, design, management, economic and financial assets.
As an ESCo, Riello will be able to offer Energy Performance Contracts to clients to provide services to optimise energy performance, committing to a minimum result achieved for its systems.
TÜV Rheinland Italy, which specialises in certification services and third-party inspections, has verified the competency of Riello Group. The audit team from TÜV Rheinland Italy found a number of positive attributes at Riello, including team expertise with a dedicated energy manager and an effective intranet management system. These elements, combined with the proven ability to deliver an energy efficiency service, led to the positive assessment and certificate approval.
"The commitment to provide our customers with better service and attention to the environment are key drivers that have always characterized our company," Umberto Ferretti, CEO, Riello Group, said. "This certification is further validation of Riello's commitment to better building through increased energy efficiency."
Paolo Caglio, CEO, TÜV Rheinland Italy, underlined the importance of the achievement, saying, "I am very pleased to note that an important company such as Riello offers services addressing environmental challenges and promoting energy efficient solutions, which increases awareness of sustainability concerns."
About Riello Group
Founded in 1922, Riello Group is a leader in products and services for heating, air-conditioning and energy efficiency. Headquartered in Legnago (Verona), Italy, Riello Group operates in over 60 countries. With 90 years of innovation, Riello Group specialises in the production of heating and air conditioning systems and technologies for residential, commercial and industrial applications through seven brands: Riello, Beretta, Thermital, Sylber, Vokera, Fontecal and FIT Service. Riello Group has eight production sites, four research centers and 14 operating subsidiaries.