United Technologies Commercial Business Unit Offices in Jeddah Achieve LEED Platinum Certification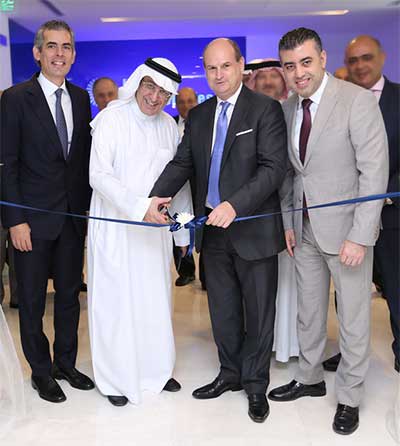 The Otis and UTC Climate, Controls & Security offices in Jeddah recently received LEED® Platinum certification under the independently verified LEED for Commercial Interiors™ rating system from the U.S. Green Building Council®. LEED certification is one of the leading global benchmarks for the design, construction and operation of more sustainable, healthy and productive work places. Otis, which operates as Otis Elevators Company Saudi Arabia, and UTC Climate, Controls & Security, which operates through Arabian Air Conditioning Company and Carrier Saudi Service Company, joint ventures between United Technologies and E.A. Juffali & Brothers in the Kingdom of Saudi Arabia, are both units of United Technologies Corp (NYSE:UTX).
"Achieving LEED Platinum certification is a clear sign of our commitment to sustainability and to having a positive impact in the Middle East region. It is my firm belief that better environmental stewardship of our planet begins with us building a culture of sustainability internally and leading the way as an environmentally responsible company," said Rolando Furlong, vice president, Otis and UTC Climate, Controls & Security, Middle East.
The office in Jeddah earned LEED credits in a number of areas including site development, water and energy efficiency, indoor environmental quality and innovation. LEED certification provides independent verification of a building's sustainable features and promotes healthier, more productive work places. Within the areas occupied by the United Technologies commercial businesses, the offices have high-efficiency light fittings, as well as motion and light sensors, which have made it possible to reduce lighting energy consumption to 54 percent which is far lower than the maximum lighting power requirements laid out in ASHRAE Standard 90.1 2007. In addition, all of the equipment and appliances used in the offices are certified with the U.S. Environmental Protection Agency ENERGY STAR® label. The Carrier heating, ventilating and air conditioning system design was optimized to achieve a cooling demand saving of 15 percent compared to the system initially provided in the building. Finally, high-performance water saving fixtures enabled a reduction in the use of potable water by 48 percent and of garden water usage by 67 percent.
The office building also uses Otis elevators and escalators, including 10 high rise elevators and four Gen2 elevators which use patented Otis technologies, including composite steel flat belts that replace traditional elevator cables to improve efficiency and ride comfort. An innovative ReGen™ regenerative drive captures energy created by the elevator, feeding the energy back into a building's electrical grid. This makes the Gen2 elevator up to 75 percent more energy efficient than conventional geared systems without regenerative drives. The building also has eight Otis escalators serving its tenants and visitors.
In addition to improvements made to the efficiency of the building systems, employees benefit from a healthier and more productive environment thanks to the improved indoor environmental air quality provided by fresh air flow and carbon dioxide monitoring. Products, including carpets, paints, coatings, adhesives and sealants with low volatile organic compounds were used to limit indoor air contaminants. Furthermore, furnishings compliant with ASHRAE Standard 55-2004 for thermal comfort were also used throughout the offices. Employees are encouraged to use shared transportation and better parking spaces are granted to those using low-emitting and carpool vehicles.
Worldwide there are fewer than 7,000 buildings with the LEED for Commercial Interiors certification, and of these only about nine percent with a LEED Platinum certification.
"We are honored to be recognized as the first LEED Platinum facility for United Technologies in the Middle East – the first also for Otis and UTC Climate, Controls & Security and the third for UTC worldwide," said Nader Antar, managing director of Otis and UTC Climate, Controls & Security Saudi Arabia.
To learn more about Otis and UTC Climate, Controls & Security in Saudi Arabia, visit www.otis.com and www.carriersaudi.com, or call us on +966 12 237 5000.
About UTC Climate, Controls & Security
UTC Climate, Controls & Security is a leading provider of heating, ventilating, air conditioning and refrigeration systems, building controls and automation, and fire and security systems leading to safer, smarter, sustainable and high-performance buildings. UTC Climate, Controls & Security is a unit of United Technologies Corp., a leading provider to the aerospace and building systems industries worldwide. For more information, visit www.CCS.UTC.com and follow @UTC_CCS on Twitter.
About Otis
Otis is the world's largest manufacturer and maintainer of people-moving products, including elevators, escalators and moving walkways. Founded more than 160 years ago by the inventor of the safety elevator, Otis offers products and services through its companies in more than 200 countries and territories, and maintains more than 1.9 million elevators and escalators worldwide. Otis is a unit of United Technologies Corp., a leading provider to the aerospace and building systems industries worldwide. For more information, visit www.otis.com or follow @OtisElevatorCo on Twitter.