United Technologies Honored with Three Awards for Green Shoots Corporate Social Responsibility Program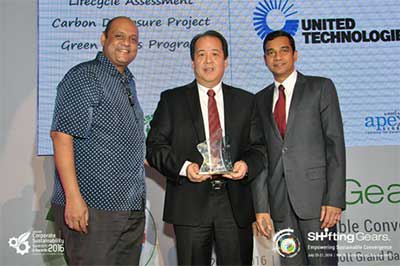 United Technologies Corp. (NYSE:UTX) was recently recognized with three awards from two leading organizations for its youth-focused corporate social responsibility program (CSR), Green Shoots. The program, which is led by UTC Climate, Controls & Security, a part of United Technologies, aims to enhance student educational environments by improving school infrastructure, while encouraging young minds to think about sustainability at an early age.
The Asia Society for Social Improvement and Sustainable Transformation (ASSIST) recently presented UTC with the Special Recognition Award for program excellence. Based in the Philippines, ASSIST is an international non-government organization seeking to promote sustainable practices that addresses social problems in the developing world.
Green Shoots received two additional honors from the Asia Best CSR Practices Awards hosted by CMO Asia: Community Development and Best Education Improvement. The Asia Best CSR Practices Awards are Asia's highest recognition of organizations that have a significant and positive impact on the lives of people around them. The winning programs were selected based on their social impact, degree of innovation and scale of inclusion.
"We are honored to receive these awards recognizing Green Shoots and United Technologies' commitment to the communities in which we operate," said Gaurang Pandya, President, UTC Climate, Controls & Security, Asia Pacific. "At UTC, we strive to make the world a better place to live and programs like Green Shoots are part of this commitment. We hope that through Green Shoots, we can help create a better and more sustainable learning environment for children."
Launched in 2011, the Green Shoots program brings together UTC employees as volunteers to support primary education in Asia. The program has helped to enhance the educational environment of students by improving school infrastructure, with the goal of strengthening student awareness of environmental stewardship and safety. The program has benefitted more than 40,200 children in primary schools throughout Asia including those in China, India, Indonesia, Japan, Korea, Malaysia, Myanmar, Singapore, Thailand and Vietnam.
For more information about sustainability initiatives at United Technologies, visit www.NaturalLeader.com.
About United Technologies
United Technologies Corp., based in Farmington, Connecticut, provides high-technology systems and services to the building and aerospace industries worldwide. To learn more about UTC, visit the website at www.utc.com or follow the company on Twitter: @UTC.