Carrier Commits to Advancing Diversity and Inclusion
Dave Gitlin signs CEO Action for Diversity & Inclusion pledge
Dave Gitlin, Carrier President & CEO, joined more than 1,000 CEOs from leading companies and non-profit institutions in signing the CEO Action for Diversity & Inclusion pledge, the largest CEO-driven business commitment to advance diversity and inclusion in the workplace.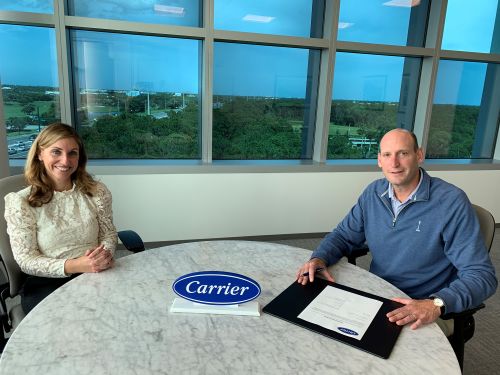 The pledge is just one of the steps Carrier is taking in the fight against systemic racism. Last month Carrier launched a focused, company-wide Diversity & Inclusion strategy to create a more inclusive environment. The program has a four-pronged approach, starting with Carrier's Black talent and our Black talent pipeline, with similar programs to support women and our LGBTQIA, Hispanic and Asian communities, among others, to follow. The new strategy has four tenets, with specific actions tied to each tenet:
Reduce the Gap by recruiting more diverse talent to Carrier.
Develop & Promote through stronger career development opportunities, including mentorship, development programs and employee resource groups.
Drive Inclusion through education and training, listening sessions, and clear and anonymous reporting channels for retaliation-free reporting of racist or discriminatory actions.
Lean Forward and celebrate our differences and honor our communities by recognizing days of historical significance. Days like Juneteenth and Martin Luther King Day will be prominently recognized, with MLK Day becoming a U.S. company holiday in 2021.
While this strategy reinforces a pressing need and desire for transparency through continued open dialogue, it is just the beginning. Signing the CEO Action for Diversity & Inclusion will help advance a meaningful change within Carrier and the business world, a step in the right direction.
"This pledge starts with me," said Gitlin, "but it will take all of us to commit to making a significant change to make Carrier a truly inclusive place to work. We will adjust and develop new programs and never give up on progress. I am personally committed to seeing serious progress and I look forward to building the absolute best team at Carrier through diversity, respect and inclusion."