Carrier Gives Back to Teachers and Students in Palm Beach County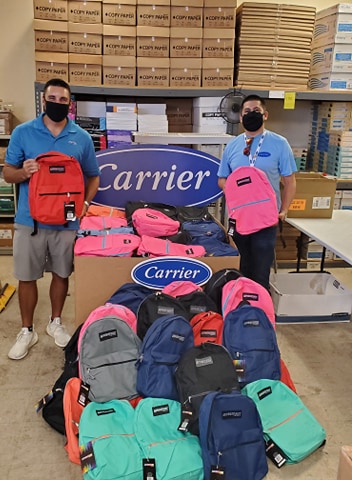 Carrier is helping students and teachers in Palm Beach County, Florida, home of the Center for Intelligent Buildings and Carrier's world headquarters, get ready to go back to school. 
Back-to-school shopping is what so many kids look forward to this time of year. Yet, for many families in Palm Beach County, purchasing school supplies is something they may not easily be able to afford. Not having supplies makes it difficult for students to fully participate in day-to-day lessons and complete homework and other special projects. Through a charitable donation to The Education Foundation of Palm Beach County, Carrier employees assembled 200 backpacks filled with school supplies, that were delivered to four schools in the area for students in need. 
To help teachers prepare for the school year, Carrier sponsored its inaugural We Love Teachers event, in collaboration with the Education Foundation, where nearly 40 teachers from across the county secured school supplies for use in their classrooms, free of charge. Carrier continued its commitment to Science, Technology, Engineering & Math (STEM) education as it unveiled the Carrier STEM Section in the Education Foundation's Red Apple Supplies Store, making supplies like student calculators, microscopes, magnets and robotics kits available to teachers. Carrier volunteers then helped load the supplies into teachers' vehicles as they drove up. 
Carrier is a proud supporter of The Education Foundation of Palm Beach County, a registered 501c3 charity. Learn more about Carrier's commitment to the community and Corporate Responsibility
here.