Carrier Helps Provide More Than 375,000 Meals to Feeding America Member Food Banks in November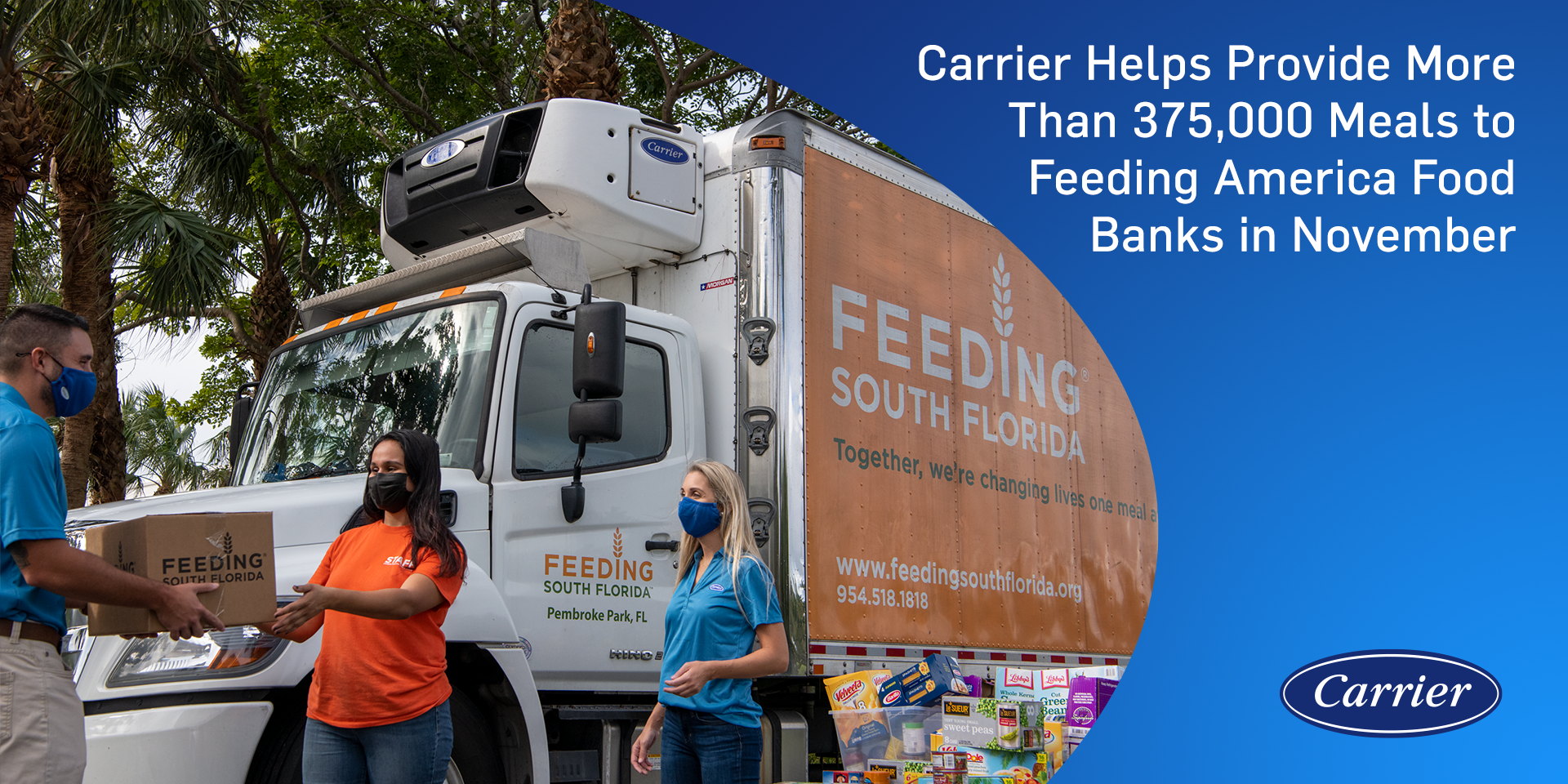 Throughout the month of November and leading up to the Thanksgiving holiday, U.S. Carrier employees helped people in need by hosting food drives to support their local Feeding America® member food bank. 
Carrier amplified employees' impact with additional monetary donations to help provide more than 375,000 meals* in total across seven Feeding America food banks. According to Feeding America, the nation's largest domestic hunger-relief organization in the country, every dollar contributed helps provide at least 10 meals to people in need. 
In 2020, 50 million people may face hunger in the U.S. due to the coronavirus pandemic, according to Feeding America. Taking action to help fight hunger is more critical than ever. Carrier employee-led food drives benefitted seven food banks across six different states near Carrier facilities, including Feeding South Florida, Food Bank of Central New York, Mid-South Food Bank, Food Bank of Northeast Georgia, Atlanta Community Food Bank, Second Harvest Food Bank at Metrolina and Gleaners Food Bank of Indiana. 
Carrier Transicold
, which features a wide range of solutions and services designed to efficiently and reliably preserve freshness and ensure the quality, safety and appearance of perishables for the transport, food retail, food services and pharmaceutical industries, already has a rich history with Feeding America. Through a grant program established in 2017, Carrier Transicold has contributed $600,000 to the Feeding America network and has helped more than 20 food banks across the U.S. to purchase truck and trailer refrigeration equipment for delivering fresh food to people in need. 
Learn more about Carrier's commitment to Corporate Responsibility
here
.
*$1 helps provide at least 10 meals secured by Feeding America on behalf of local member food banks.