Kidde Donates 1,000 Carbon Monoxide and Smoke Alarms to Texas Storm Victims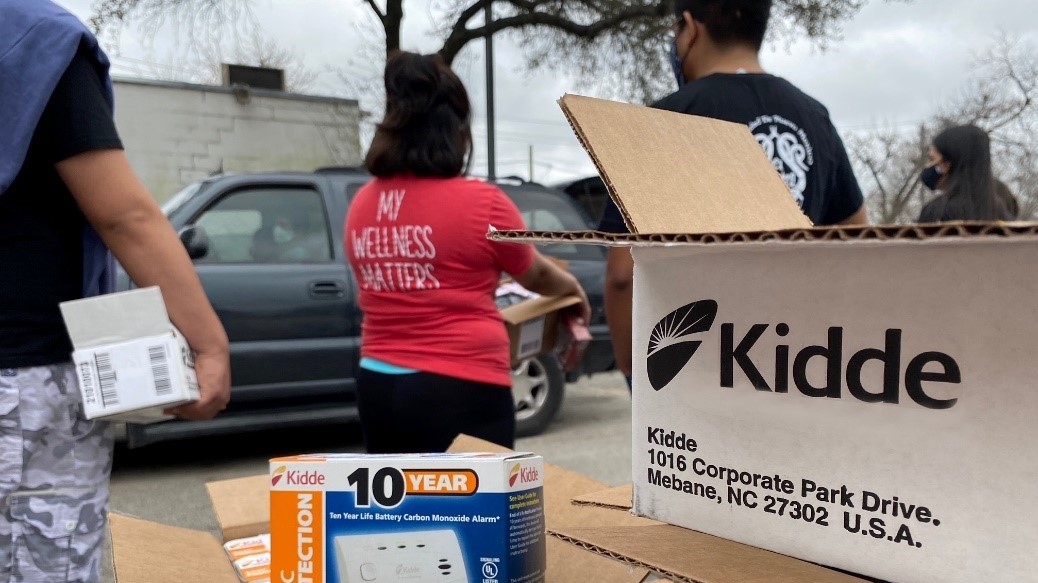 When devastating winter storms hit large portions of the United States in mid-February, Kidde was proud to be one of the first companies to assist. In the wake of Winter Storm Uri, Harris County, Texas – the state's most populous county and home to Houston – saw hundreds of cases of carbon monoxide (CO) poisoning, as thousands of people remained without power for most of the week. In response, Kidde quickly mobilized to secure a donation of 750 CO alarms and 250 smoke alarms for the Houston Fire Department. 
The Houston Fire Department distributed the donated alarms to underserved families in partnership with KTRK ABC13 Houston and the Morales Family Foundation, an organization that supports Latino families in need across the Houston metro area. More than 500 families received Kidde alarms, helping to better prepare them for future severe weather events. Volunteers were also on site to distribute food, water, and pet food to supplement the alarm donation.
The donation is part of Kidde's long-standing Operation Save A Life program, a public service initiative in cooperation with ABC designed to educate consumers on the dangers of fire and CO poisoning and provide alarms to families in need. Over the years, Kidde has donated more than 1.5 million alarms through Operation Save A Life. "We have a responsibility to help families in our community who are dealing with the unimaginable," said Sharon Cooksey, Marketing and Communications Manager for Kidde and Project Lead for Operation Save A Life.  
"Whether it's unexpected winter storms in Texas or devastating hurricanes along the Gulf Coast, we're always there to make sure we're doing whatever we can to help families protect what matters most."
Often called "the silent killer," CO is a colorless, odorless, tasteless gas that can be lethal to humans and pets. The risk of unintentional CO poisoning increases when temperatures plunge and home heating systems run for longer than usual. CO poisoning can also result when appliances that use CO-producing sources – including natural gas, kerosene, propane, coal, and gasoline – are used incorrectly or malfunction. 
"During a power outage, people often turn to alternative ways to heat and light their homes but if used incorrectly, this can have devastating effects," said Cooksey. "It's extremely important that people remain mindful of potential CO and fire dangers and how to avoid them, which includes installing CO alarms throughout the home." 
To help protect people and pets from CO and fire hazards before, during and after a severe weather event, Kidde shares the following advice:
Before a storm, test all smoke and CO alarms and fire extinguisher gauges to ensure your home fire safety equipment is properly working. Replace if necessary.
Place generators outdoors. Install your generator outdoors at least 20 feet from the home with the exhaust pointing away from the house. Only operate the generator outdoors in a well-ventilated dry area, away from air intakes to the home, and protected from direct exposure to rain. Follow the manufacturers' instructions when using generators.
Consider flameless candles. A safe alternative to traditional wick candles is battery-operated flameless candles. If using traditional candles, keep them at least 12 inches from anything flammable. Extinguish all candles when leaving a room or the house, or when going to sleep.
Grill outdoors only. Place your grill at least 10 feet from the home and make sure it is clear of any vents that could carry CO into the home.
The garage is not a CO-free space. Gasoline-powered cars can emit CO, even with the door open. Move running or idling cars at least 20 feet away from the home.
Know the signs of CO poisoning. The most common symptoms of CO poisoning in people often mirror those of the common flu and include things like headaches, dizziness, weakness, nausea, vomiting, chest pain and confusion. In pets, initial symptoms include nausea/vomiting, dizziness or labored breathing, among others. If your CO alarm sounds or you suspect CO in your home, evacuate your home immediately and call 911.
Install CO alarms throughout the home. CO can travel anywhere in the home – even through drywall – so most often, one alarm is not enough. It's best to install CO alarms throughout the entire home with at least one on every level, and consider including in living areas, bedrooms and hallways outside sleeping areas.
Replace alarms after 7-10 years, depending on the model. While testing alarms once a week and ensuring batteries are replaced are critical steps, replacing every alarm at a minimum of 7-10 years is paramount. If you cannot remember the date you installed your alarms, simply check the manufacturing date – commonly located on the back of the alarm – and add 7-10 years, depending on the model. Please check your manufacturer user guide.
As a leading manufacturer of fire safety products, Kidde has a deep history of giving back to communities in response to emergencies and natural disasters around the country, and, along with the entire portfolio of Carrier businesses, remains committed to doing what's right, acting as a true partner for our local communities and supporting families when they need us most. To learn more about carbon monoxide safety and Kidde's response to the winter storms in Texas, click
here.