Chubb Beijing Showcases Holistic Security Solutions at Futuristic Security Technology Seminar
Intelligence, connection and security are integral aspects of smart cities and urban life. Beijing Chubb Fire Security Systems Co., Ltd. ("Chubb Beijing") showcased the importance of this at the Futuristic Security Technology seminar held today in Beijing with approximately 200 industry professionals in attendance. The seminar explored the latest trends and demonstrated cutting-edge technology breakthroughs in integrated security solutions. Chubb Beijing is a part of Chubb, a leading provider of security and fire-safety solutions, and part of UTC Climate, Controls & Security, a unit of United Technologies Corp. (NYSE: UTX).
"China's smart building industry has witnessed rapid growth driven by urbanization and Internet plus. At the same time, the industry is balancing segmented demands based on different types of buildings and applications, and the integration of isolated building systems into one intelligent platform," explained Mr. Zen Li, general manager, North Region, Chubb Beijing. "As a pioneer in the global security and fire safety industry, Chubb Beijing has been committed to enhancing our clients' capabilities to identify security leaks and applying next-generation intelligent security solutions."
Chubb Beijing understands the importance of the Internet of Things (IoT) in the context of smart connected solutions. At today's seminar, Chubb Beijing proudly exhibited state-of-the-art security solutions focusing on video surveillance, access control, integrated security management platforms and connected communication. These technologies, especially a new intelligent closed-circuit television and monitoring system, provide new opportunities for buildings' security and administrative teams to minimize security risks and safeguard occupants. A powerful smart office management ecosystem was also displayed to demonstrate the benefits of one central platform for things like meeting room reservation, staff safety and energy management.
The seminar was organized by Chubb Beijing and supported by the Security Professionals Alliance of China, a non-governmental organization dedicated to promoting up-to-date information sharing on smart, preventative security management and emergency response planning. Attendees from multiple industries including asset management, IT and the automobile industry participated in discussions on building security system management and the enhancement of a physically secure environment.
To learn more about Chubb Beijing's offerings, visit www.ccs.utc.com.
About Chubb
Founded by the inventor of the first patent detector lock in 1818, Chubb is a leading provider of security and fire-safety solutions for businesses and industry nationwide. Chubb is a part of UTC Climate, Controls & Security, a unit of United Technologies Corp., a leading provider to the aerospace and building systems industries worldwide.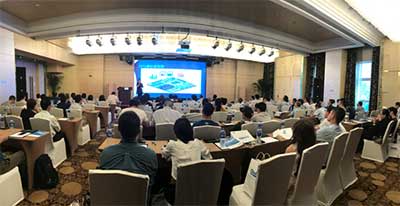 Chubb Beijing Showcases Holistic Security Solutions at Futuristic Security Technology Seminar