Carrier Develops World-Class Supplier Sustainability Program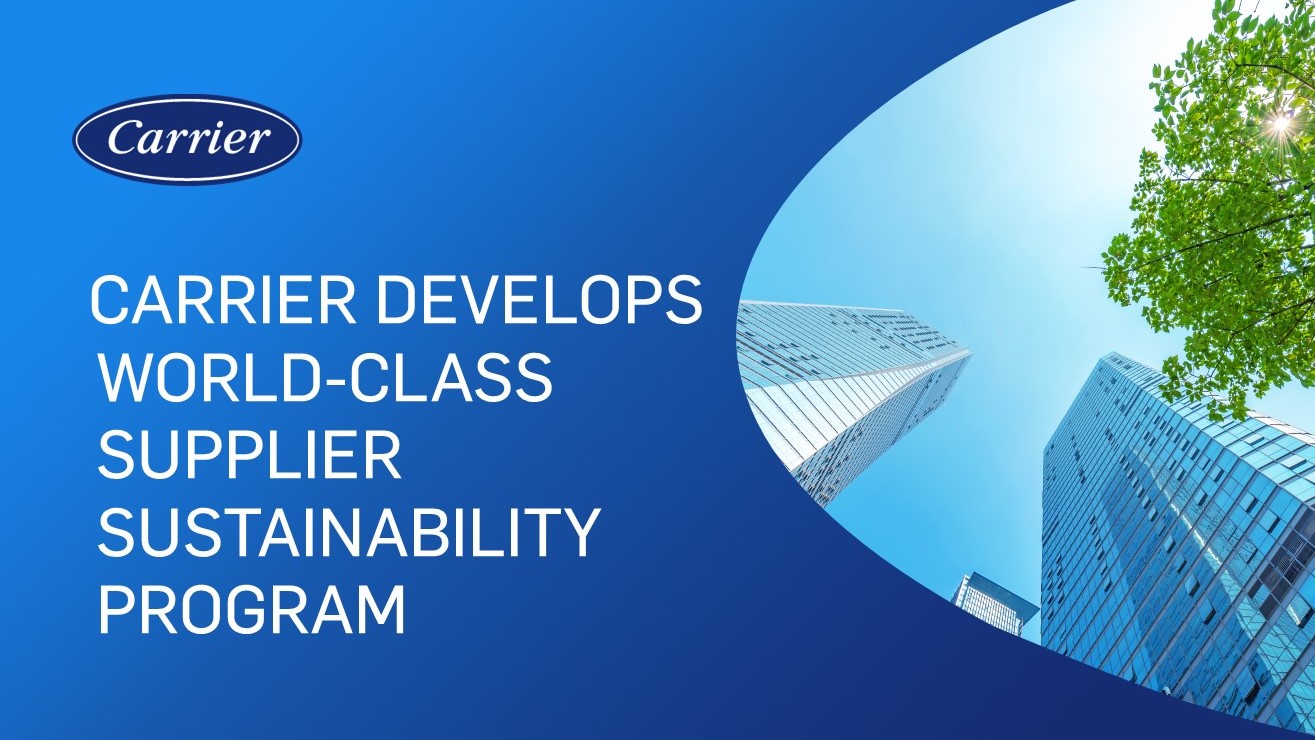 Carrier suppliers are a critical part of the global Carrier team. From their innovation to their commitment to quality, Carrier suppliers work with the company every day to meet and exceed the needs of Carrier customers and to enable the company to achieve its goals in operational excellence. 
Carrier counts on its suppliers to meet the same high standards that it places on itself. In addition to upholding its expectations for quality, ethics and safety as communicated in the
Supplier Code of Conduct
, Carrier is actively engaging with its suppliers to develop a world-class supplier sustainability program. 
"We are always working to make our products, operations and practices more sustainable," said Ed Dunn, Vice President, Supply Chain, Carrier and executive sponsor of the Carrier Supply Chain Sustainability Program. "Our suppliers are essential in helping us optimize our sustainability performance across our value chain."  
Formally launched in November 2020 as a part of its
2030 Environmental, Social & Governance (ESG) Goals
, Carrier's supply chain sustainability program strategy consists of four focus areas:
• Develop a clear understanding of sustainability performance across the supply chain.
• Strengthen supplier engagement and sustainability performance.
• Embed sustainability insights and criteria across our procurement procedures, processes and tools.
• Lead with a world-class program for supply chain sustainability.
As a first step, Carrier worked with with
EcoVadis
, a third-party assessment platform and engagement tool, to assess top factory suppliers across key ESG topic areas, including labor practices, human rights, ethics, energy, climate and water. More than 1,000 suppliers representing strategic areas within Carrier's global supply chain were invited to participate in the EcoVadis assessment.
Carrier implemented several initiatives to support these assessment efforts, including:
• Hosting a series of webinars with EcoVadis in local languages for suppliers and buyers around the world, sharing information about sustainable sourcing as well as providing training on how to use EcoVadis tools and resources.
• Conducting risk mapping exercises to identify key suppliers and regions to prioritize in terms of sustainability engagement.
• Integrating sustainability into supplier documentation, including the Supplier Code of Conduct, the Supplier Quality Manual
and Long-Term Agreement.
• Updating requirements for being a
Carrier Preferred Supplier
to include a minimum score of 45 on the EcoVadis assessment.
One year after implementing the Carrier sustainability program, Carrier is pleased to share it has met its initial goal to have 80% of direct factory spend assessed against sustainability criteria. "Meeting our initial goal highlights Carrier's commitment to the things that matter, as well as the strength and dedication of our supply chain partners," said Puneet Saxena, Director, Supply Chain, Carrier and leader of the Supply Chain Sustainability Program. "Our work toward a sustainable future does not stop here and we look forward to expanding partnerships with sustainable suppliers."