Carrier Named One of World's Most Admired Companies by Fortune for the Second Year in a Row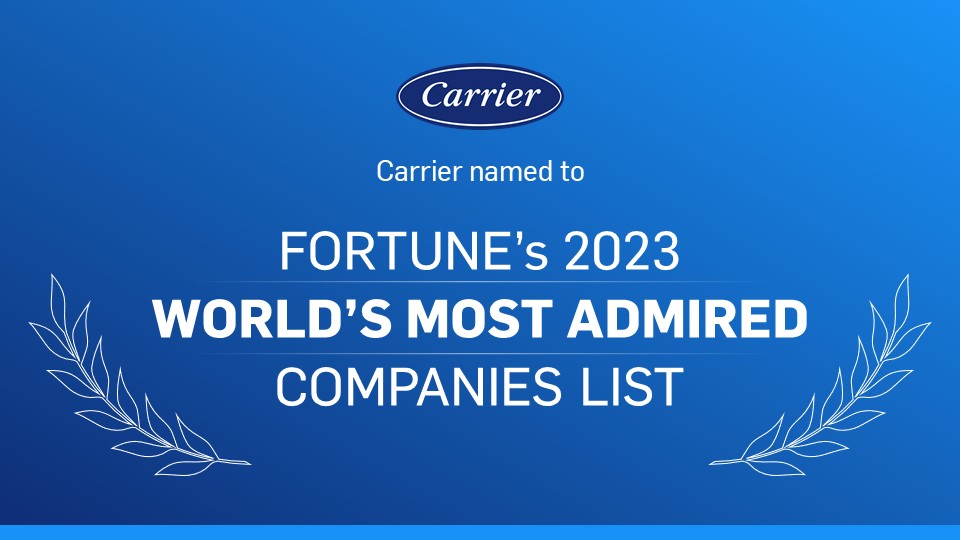 Environmental, Social and Governance (ESG) initiatives are core to Carrier's business and throughout its global operations, Carrier's employees are focused on climate solutions and working to minimize the company's environmental footprint and make investments that improve society. Carrier's ambitious 2030 ESG goals include an aim to reduce its customers' carbon footprint by more than 1 gigaton – supported by a planned investment of more than $2 billion to develop healthy, safe, sustainable and intelligent building and cold chain solutions, as well as further advance digitally-enabled lifecycle solutions. 
To determine the list, Fortune identifies industry groupings by using the Fortune 1,000 and Global 500 listings and other major non-U.S. companies and creates a survey that evaluates the companies based on nine attributes of reputation: innovation, social responsibility, financial soundness, long-term investment value, global competitiveness, people management, quality of products / services, use of corporate assets and quality of management. 
To learn more about Carrier's 2030 ESG goals, visit 
here
.