Carrier Releases 2023 ESG Report; Highlights Progress Toward Ambitious ESG Goals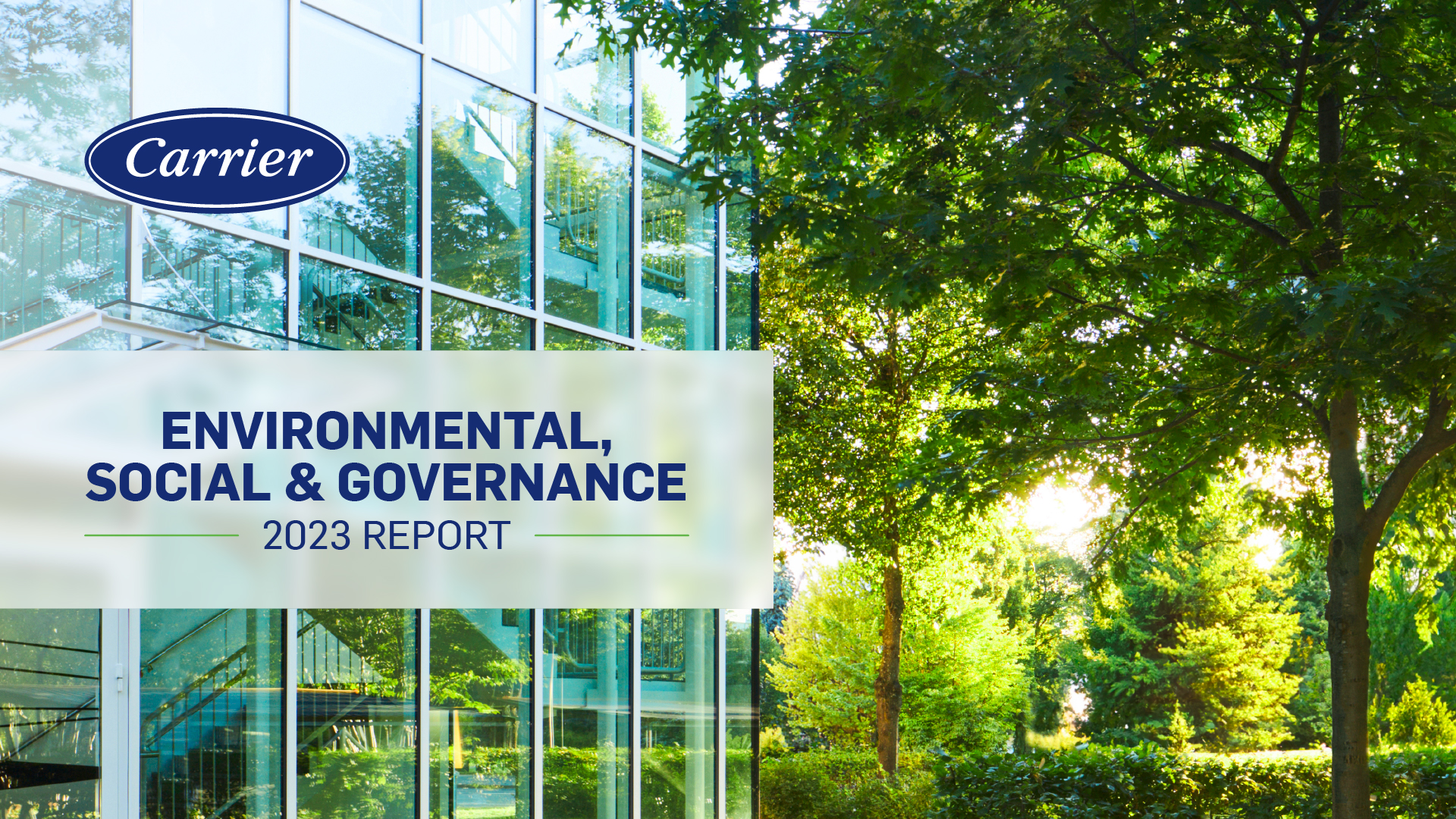 Today's actions can shape a sustainable future for generations to come – that's why Carrier is innovating to address the planet's most urgent challenges while meeting the needs of customers and supporting our communities and our people.
Today, the company released its
2023 Environmental, Social & Governance (ESG) Report
, which highlights progress toward its ambitious ESG goals through sustainable practices and investments while fostering an inclusive and diverse team that is united by a common purpose and values.  
"Our planet is at a critical juncture. Climate change is causing profound damage to the environment, and the need to transition to renewable energy has never been greater," said David Gitlin, Chairman & CEO, Carrier. "At Carrier, the purposeful transformation of our portfolio will create a true global climate champion that is leveraging innovative technology to make a meaningful impact on the world for generations to come."
At the intersection of secular trends – including climate change and sustainability, energy transition, the adoption of alternative-fuel solutions accelerated by government regulation and incentives, and digitalization – Carrier is well-positioned to address climate change as a key tenet of the company's growth strategy. These secular drivers are perfectly aligned with Carrier's core strategy of becoming a simpler, more focused leader in intelligent climate and energy solutions. 
This year, Carrier has made strides in many areas central to its vision – creating solutions that matter for people and our planet - including innovation and solutions, operations, people and communities. Below are a few highlights from Carrier's 2023 ESG Report. 
Innovation & Solutions
Since 2020, Carrier's high-efficiency and lower global warming potential refrigerant products have enabled customers to avoid approximately 212 million metric tons of greenhouse gas emissions, which is equal to the annual energy use of more than 27 million U.S. homes.
Through
Carrier Ventures
, the company invested in several companies, including Transaera, which is developing a new class of affordable, energy-efficient, sustainable cooling systems. Carrier Ventures forms strategic partnerships with high-growth companies to accelerate the development of sustainable innovations and disruptive technologies for building and cold chain net-zero solutions.
Operations
The company's renewable energy strategy includes on-site installations, direct procurement and renewable energy credits. Carrier assesses renewable energy opportunities, starting with its global manufacturing and research and development centers. In 2022, the company reduced Scope 1 and 2 emissions from 2021 levels and its energy intensity by approximately 21% over the same period.
People
Carrier remains steadfast in its goal to create a workplace that is truly and genuinely inclusive, and where all employees feel like they _belong. The company introduced Leading People The Carrier Way – its new talent philosophy anchored in one of The Carrier Way's key tenets – Build Best Teams. To build upon its _belong philosophy, Carrier introduced ally, laying out key principles for employees to have the ability to contribute to the company's inclusive culture by striving to be an ally to all. Additionally, the company continues to reduce the gap by recruiting inclusively; building partnerships with colleges, universities and professional organizations; and hiring and promoting the most talented employees.
Communities
Carrier makes a positive impact on communities through philanthropic giving, volunteerism and partnerships. In 2022, Carrier contributed more than $3.2 million to colleges and universities in support of research, scholarships and programs that promote STEM-related careers and inclusion and diversity. The company supported more than 1,100 civic, cultural, economic and social welfare organizations through the Carrier Matching Gifts Program.
Through a three-year commitment with The Nature Conservancy, Carrier helped make the cities of tomorrow more resilient, healthy and equitable. With Carrier's support, students around the world participated in virtual field trips to discover the natural world through Nature Lab, The Nature Conservancy's online curriculum program for teachers and families.
"Sustainability is at Carrier's core, and we continue to drive decarbonization," Gitlin concluded. "I am proud of the progress we are making. Looking ahead, we will be a catalyst for positive and sustainable change as we innovate, empower our people and operate with integrity."