Carrier Supports Healthy and Safe Indoor Environments Through Habitat for Humanity Partnership
Carrier is proud to support Habitat for Humanity's
Home is the Key
campaign as the signature Healthy Homes partner in 2022.
The annual campaign shines a light on the critical need for safe and affordable housing in the United States.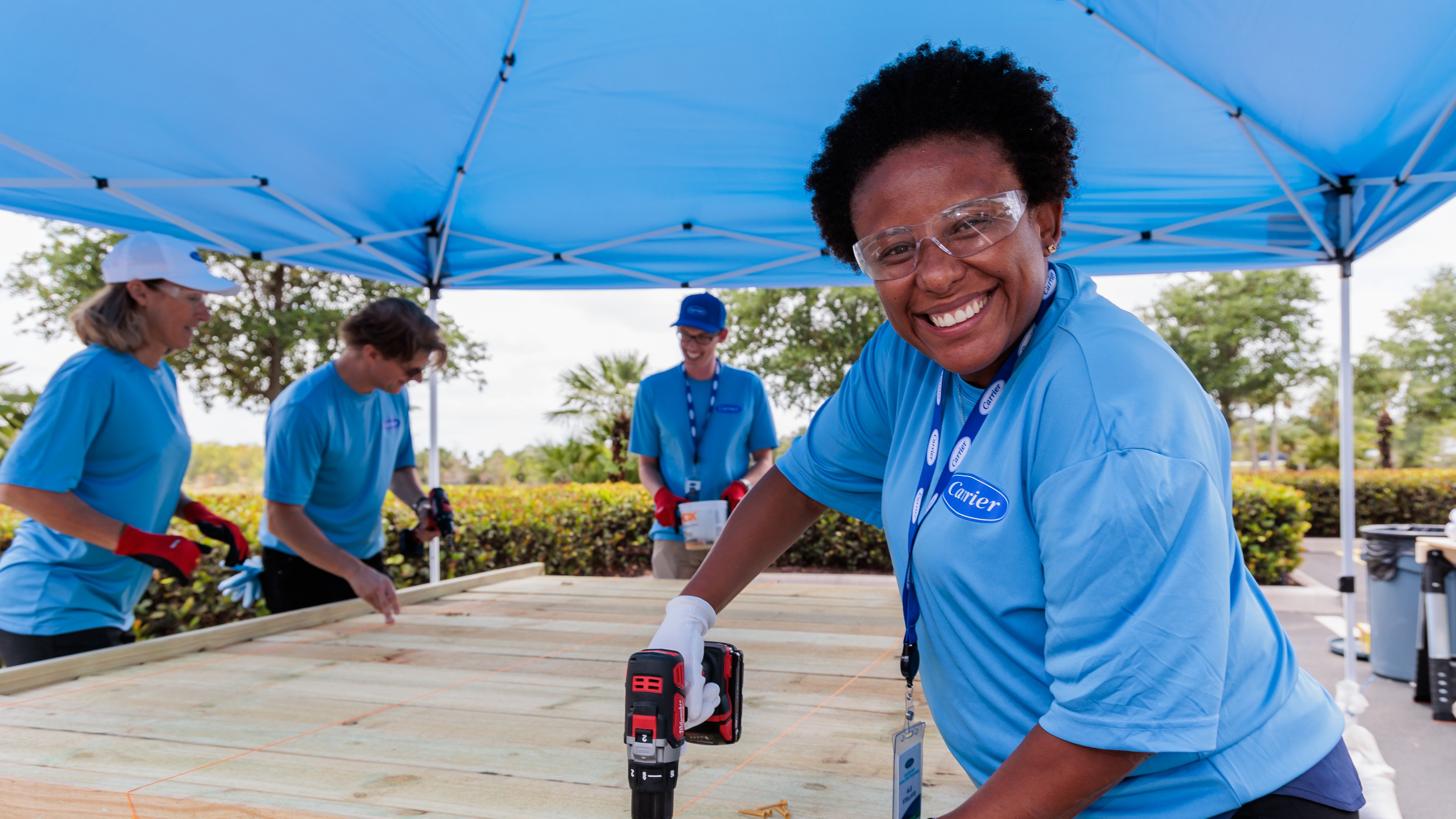 Employees at Carrier's world headquarters in Palm Beach Gardens, Florida, put together fence panels for Habitat homes.
With the average American spending 90% of their time indoors, a healthier future starts with healthier buildings. To help Habitat address the barriers to healthy and safe housing that millions of people and their families face, Carrier committed an initial $250,000 donation to the campaign, raising awareness and fundraising through the months of April and May.
Hundreds of U.S. Carrier employees volunteered their time to construct homes, panels or fences, either onsite or at Carrier facilities in cities across the nation: Atlanta, Charlotte and Greensboro (North Carolina), Indianapolis (Indiana), Palm Beach Gardens (Florida) and Syracuse (New York). Key dedication ceremonies also took place in Los Angeles, Nashville (Tennessee), Palm Beach Gardens and Minneapolis-Saint Paul (Minnesota) to celebrate Habitat families moving into their new homes.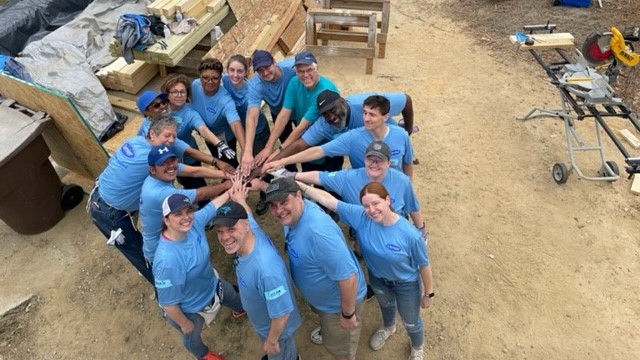 Carrier volunteers in Greensboro, North Carolina, working together to build a Habitat home.
In Indianapolis, Carrier Residential HVAC executive leadership team members and more than 90 Carrier employees celebrated the 25th consecutive Habitat home build since 1998. In addition to the new home, Residential HVAC donated $125,000 along with high-efficiency home comfort systems, as part of Carrier's
Healthy Homes Program
. Carrier is the longest running supporter of the affiliate and has donated an HVAC system to every Habitat home built in the city for nearly three decades.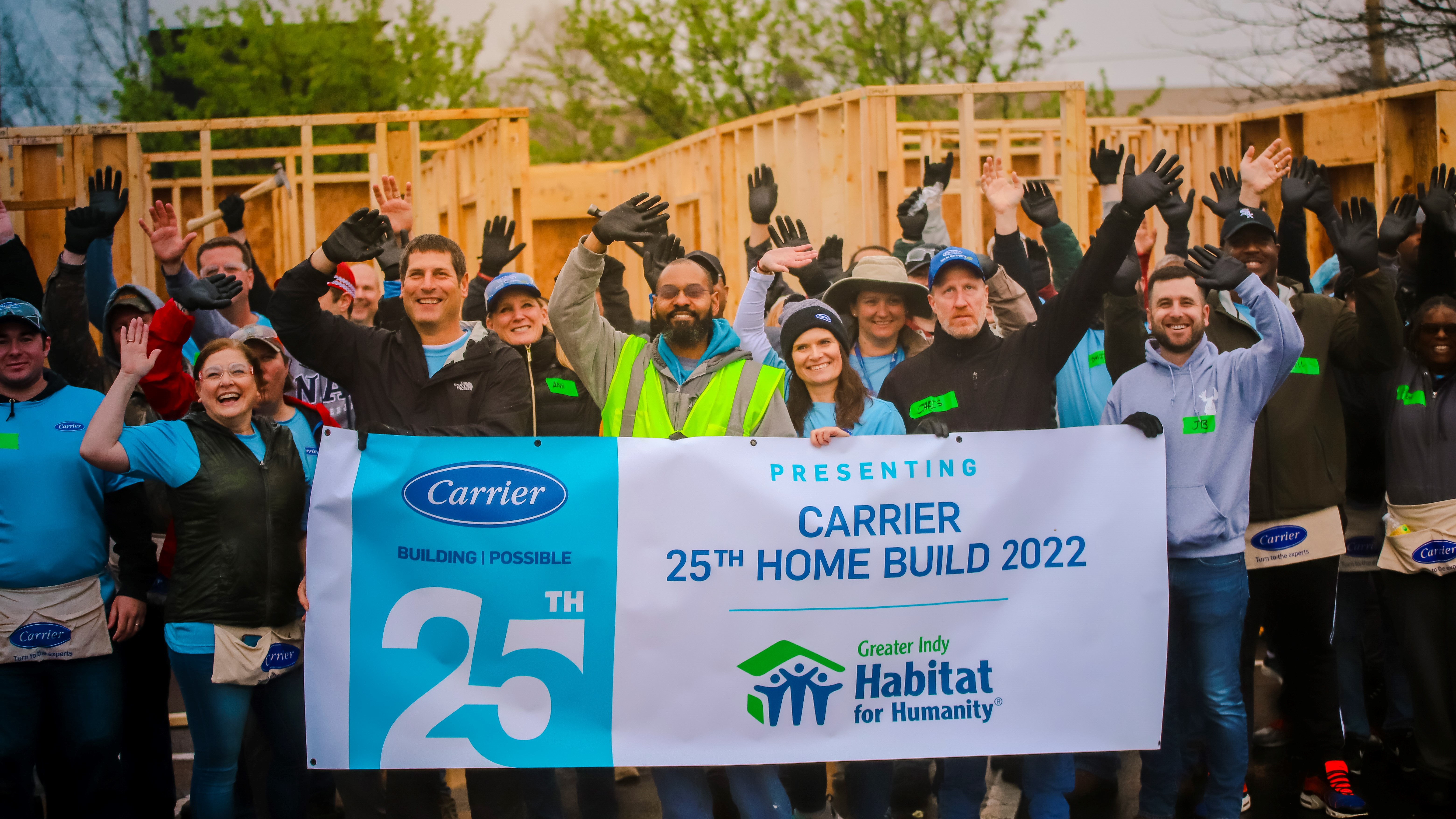 In Indianapolis, Indiana, over 90 Carrier employees celebrated the 25th consecutive Habitat home build since 1998.
"As Indy Habitat for Humanity's longest-running home-build sponsor, we are proud to provide solutions that help the homeowners achieve healthier air and embrace standards for more comfortable, sustainable and efficient homes, now and in the future," said Justin Keppy, President, NA Residential & Light Commercial HVAC, Carrier. "Today, every home built has a Carrier system. We look forward to our continued relationship with Greater Indy Habitat for Humanity and are pleased to participate in one of the six builds Carrier has planned across the country in 2022 for Habitat for Humanity's Home is the Key campaign."
Along with its support of Home is the Key, Carrier has also supported Habitat affiliates nationwide through more than $3 million in Healthy Homes product donations and countless employee volunteer hours.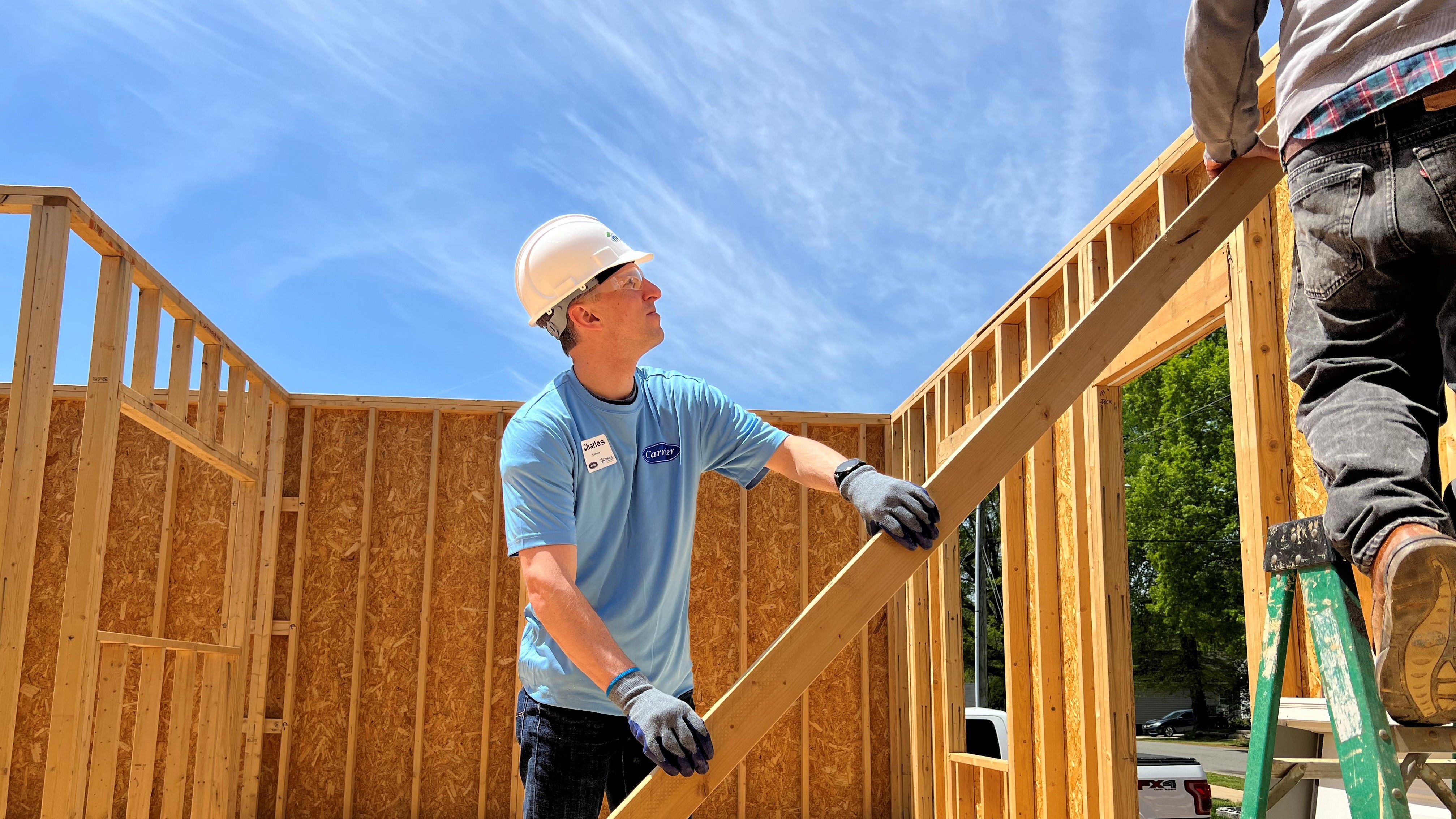 A Carrier volunteer in Greensboro, North Carolina, builds a Habitat home.
To enable access to healthier, safer, more efficient and productive indoor environments, Carrier and Kidde donated indoor air quality and fire and security solutions –
smart air purifiers
and
smoke and carbon monoxide detectors
– to build sites and key dedication locations.
Later this year, Carrier volunteers will participate in rebuilding a Lafitte, Louisiana, community damaged by Hurricane Ida, and in South Florida, Carrier is partnering with Habitat to fund and build a new home with the help of volunteers from Carrier's world headquarters.
Carrier looks forward to continued collaboration with Habitat for Humanity to help make communities more resilient, healthy and equitable for generations to come. The collaboration closely aligns with Carrier's
2030 Environmental, Social & Governance (ESG) goals
of positively impacting communities by enabling access to safe and healthy indoor environments and employees volunteering time and talent.