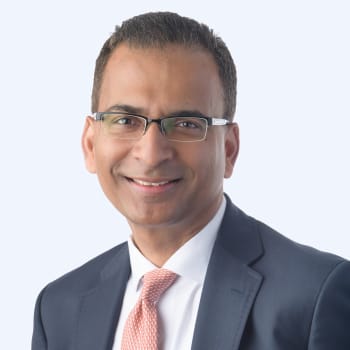 Ajay Agrawal
Senior Vice President, Global Services, Healthy Buildings & Chief Strategy Officer
Ajay Agrawal is the Senior Vice President, Global Services, Healthy Buildings & Chief Strategy Officer, for Carrier. In this role, Ajay is responsible for accelerating Carrier's growth in the healthy buildings segment, leading global services & aftermarket, global enterprise sales (Buildings Solutions Group) and the EcoEnergy organization. In addition, Ajay is responsible for leading Carrier's corporate strategy and efforts to define and frame its long-term growth strategy.
Ajay developed Carrier's strategy as the world leader in healthy, safe, and sustainable buildings and cold chain solutions. He also drove strong focus on lifecycle solutions across the company and created an actionable growth roadmap for parts, service attachment, and connected services, including the launch of Carrier's BluEdge tiered service platform.
Prior to joining Carrier, he served as Vice President, Aftermarket Services, for Collins Aerospace, leading the worldwide commercial and military aftermarket business and customer service organizations including long-term aftermarket programs, spares, repairs, asset management and technical support. Ajay has a unique ability to partner with customers to find creative business solutions, and a history of driving results leading to strong, trust-based customer relationships. He has extensive experience in developing and implementing practical business strategies with previous roles in UTC Corporate Strategy and Bain & Company.
He holds a doctorate in engineering from University of Missouri and an MBA from Carnegie Mellon University.
file_downloadAjay Agrawal Bio