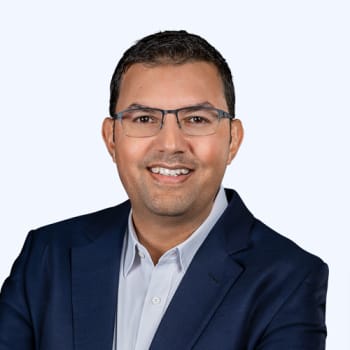 Gaurang Pandya
President, HVAC Americas and Commercial HVAC EMEA
Gaurang Pandya is President, HVAC Americas and Commercial HVAC Europe, Middle East and Africa, for Carrier. In this role, Gaurang is responsible for driving profitable growth in Carrier's North America HVAC business across commercial, residential and light commercial, service, building technologies and sustainability solutions businesses, as well as Carrier's EMEA commercial business. Gaurang is also responsible for accelerating recurring revenues through digitally enabled lifecycle solutions such as the Abound digital platform and suite of solutions.
Gaurang has more than 24 years of experience with Carrier and has held various positions of increasing responsibility in finance and general management, with leadership positions in India, Southeast Asia and Greater China. Prior to his current role, Gaurang served as President of Commercial HVAC, and President of Global Equipment, HVAC.
Gaurang holds a bachelor's degree from Delhi University and an accountancy degree from the Association of Chartered Certified Accountants in Glasgow, United Kingdom.
Connect with Gaurang on LinkedIn
file_downloadGaurang Pandya Bio