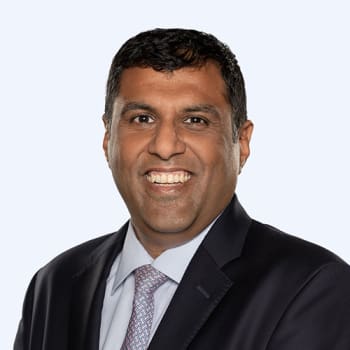 Rishi Grover
Senior Vice President, Operations
Rishi Grover is Senior Vice President, Operations, for Carrier. In this role, he is responsible for all aspects of global operations, including factory productivity, supply chain efficiency, operational transformation, EH&S and ensuring quality standards for our customers. He also leads the modernization and digitization of Carrier's operations methods and processes across the portfolio. 
Prior to joining Carrier, he served as Vice President, Global Operations and Systems for Collins Aerospace. Rishi has over 17 years of manufacturing, supply chain and P&L experience, including roles of increasing responsibility at UTC Power, Hamilton Sundstrand and UTC Aerospace Systems. 
Rishi holds a master's degree in electrical engineering from the University of Hartford, a master's degree in systems engineering and management from Massachusetts Institute of Technology, and an MBA from University of Chicago. He also holds a bachelor's degree in electronics from the National Institute of Technology, Surat, in India. 
Connect with Rishi on LinkedIn
file_downloadRishi Grover Bio